Editor's note: Kittens, it's my joy to introduce you to a new voice on this blog.
Sue the Splendorous is not new to us at Tabby's Place. She's been a beloved volunteer for years. But now, Felis Catus is richer for her words and her heart. We're all (feline and human) in for a treat… — A.H.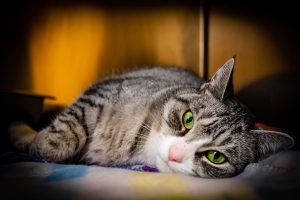 I recently read an article written by an older woman who went on a search for what she decided, given her age, would be her 'last cat.'
WHAT?
LAST CAT?!
The thought made my breath catch.  Couldn't/wouldn't wrap my mind around that.  No one to sleep on my hair at night?  No not-so-soft snore while I pound computer keys?  No one to show me up when I practice my yoga poses?  (OK, maybe this one's just me.)
No cat?  Perish the thought!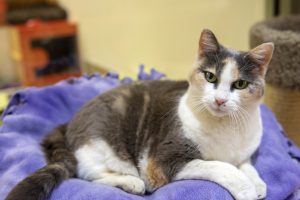 Though cats have always been a part of my life, I, too, likely have more years behind me than in front of me.
But, OK, now that you've hopefully taken a breath and shaken the thought out of your consciousness, let's not make this about humans. What about the cats? Our feline loves live in that space between the past and the future — AKA the present.  But don't let that fool you. We may not want to think of a 'last cat,' but, for sure, the kitties are dreaming of their last — AKA forever — home, as they, too, see the passage of time.
Take, for instance, just two of the grandes dames of Tabby's Place: Maggie and Jennifur.
Maggie is, in a word, stunning.  She's a beautiful 11-year old silver tabby who suddenly found herself (together with recently-adopted brother Montana) without a home. She wants and gives only love and a home she can be sure is her last.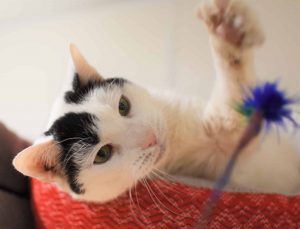 Then there's Jennifur, a 14-year old true Southern belle who hails from Georgia.  Her person became ill, and she found herself looking for a home to live out her golden years.
And then there's our not-so-matching pair of gentlemen bookends, Elijah and Angelo.  Both 12 years old, both having been in four homes each, both gentle, gentle souls, these boys love quiet pillows, dreaming of the place and people that will be their last, their forever home.
Last cat? Last home? Seems like a match made, well, at Tabby's Place.
Age is just a number, and I, for one, would like to think I have good years left in me, just like Maggie, Jenny, Elijah and Angelo.
And don't we all dream of someone to grow old(er) with…a furry someone who is all about unconditional love?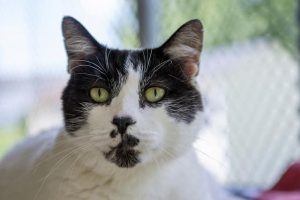 More Blog Posts