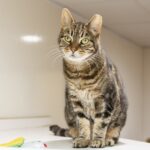 Wherever we turn, there are doorways that we can see through as we pass through, much like the magnificent blue door staff and volunteers use to enter Tabby's Place.
Then there are portals.
Whether they are wormholes that link the farthest reaches of the universe to each other or tunnels that link New York to New Jersey, portals are gateways into something that can't immediately be seen.
At Tabby's Place, portals often come in feline form. These special individuals provide humans with figurative gateways that help us reach frightened or shy cats. Steven is one such cat, who continues to help me connect with Wonton. As a sponge that will never reach capacity for affection, Steven often will play the part of demonstrator, like this: See how nicely this human treats a cat; See how many pets can be requested and given; See how happy this interaction makes one Steven Rosenberg!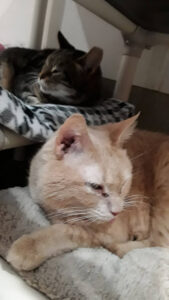 As he has grown up and shifted to Suite B, Elliot is following in Steven's pawsteps. For Elliot, there seems to be no limit to human-cat interactive play, no maximum amount of cuddle time, no cap on allowable pets (barring time required for zoomies and feline-with-feline play). Some of the other cats who share space with Elliot are learning from him. At moments when Shaggy seems shier of humans, all he needs to do is see Elliot accept some love in order to relax, accept – even ask for – attention himself before getting back to the business of ball chasing.
Zeppole is another cat who sometimes acts as a portal to help us reach into the unknown. What awaits the individual who is trying to get to know Yuki? With a little patience and a helping paw from Zeps (i.e. observing him interact with a person), the answer is a whole lot of sweetness and very much purring. Each week, Yuki accepts more and more love from more and more people. Zeppole, along with Elliot and other members of the Suite B band, definitely helped Yuki arrive in the countryside of snuggles.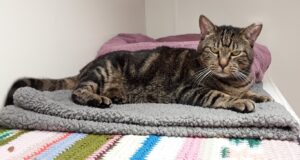 Meanwhile, in the Community Room, Consetta is accepting the title of the most singingest portal of all the portal cats. Most recently, Consetta has recruited Infinity to her choir. The miniscule tuxedo with fur that sticks out in all directions used to dart away as soon as a foot inched near her. Now she has learned from the chanteuse's example. Not only does Infinity chitter her own song at the birds that alight on the window feeder (rest assured, it is outside and our feathered friends remain safe), she has learned from watching that humans are sources of scritches and brushing and love enough to last an eternity of eternities.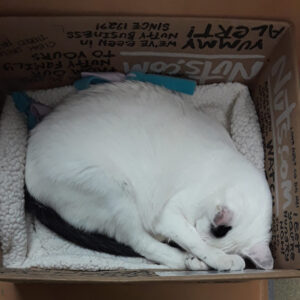 While the majority of cats at Tabby's Place transition easily into accepting their space and the humans who walk among them, many need the gentle, nudging assistance of portal cats. These special cats help lead others toward the coziest, sweetest outcomes, at the least in finding greater comfort in being at Tabby's Place, or, at the very best, in the grand grace of finding a forever home.
Although there are some cats that seem like they may be forever feral, forever frightened, there is no portal that we can see through to predict whose switch will flip. It happens. It OFTEN happens. Sometimes switches flip for no apparent reason. Other times, it is clearly because another cat led the way.
Whether or not the switch flip happens for any individual cat that passes through the Tabby's Place doorway, the entire community will be on hand to answer the call. Everyone will come through to make sure each and every cat receives all the care and kindness we can give. Every portal cat will be there too ready to guide the way.
More Blog Posts