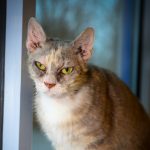 Gratitude: being more aware, and therefore more thankful, of what you have than what you lack.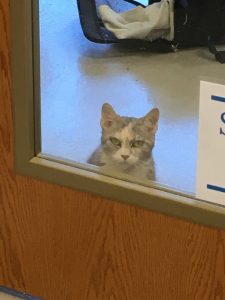 I wake up each new day of this pandemic and am thankful that we are one day closer to the end — the end of the virus, the end of stay-at-home requirements, closer to a successful treatment, a vaccine.
I'm especially grateful that, with each passing day, we are closer to a time when Tabby's Place volunteers will once again be gracing the halls and suites with toys and treats…and, of course, hugs for the kitties we are missing so dearly.
As for me, my first stop will be to hug Luna and tell her how proud I am of how bravely she tackles her life-disrupting allergies and embraces all life has to offer her.  I just know she is grateful down to her little toe beans that she has found her way to Tabby's Place.
Each and every one of these kitties lets us know, in her own way, how grateful she is for finding her way to our sanctuary in the little hamlet of Ringoes, NJ, from our elders like Bucca, to the young ones like Beatty, and all of those in between.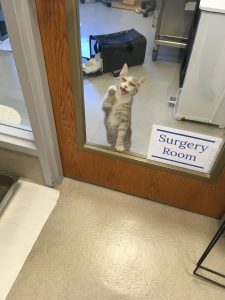 We are now hearing virus survivor stories, and thankfully there are many.  I thrive on these stories of the everyday heroes who grace us with acts unexpected of mere mortals.  We have angels all around us, from those on the healthcare front lines, to the truckers who keep rolling to stock our grocery stores, to the brave people who go to work at those stores every day.
In this time of isolation, we can be grateful for being able to connect with loved ones through FaceTime, Zoom, and, of course, the virtual tours you can find on Tabby's Place Facebook page to keep us connected to those fur babies we are all missing.
So just know, like you've ever known anything from that place deep inside, that this too will pass. When we can reunite, it will be with tears of joy.  There is power in hope.  Don't lose sight of that.
Be grateful, and observe with awe the power of gratitude.  Miracles are all around (and a lot of them come covered in fur).
More Blog Posts