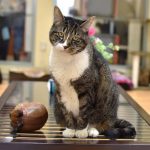 One impactful, epic, or soul-searing event can lead to a strong, clear, and lasting memory.
More often, it is a collection of small occurrences that lead to remembrances that lead to a strong, lasting feeling or memory of a place or creature.
With Melanie, it is a mixture of both that make up our collective memory of this fabulous feline.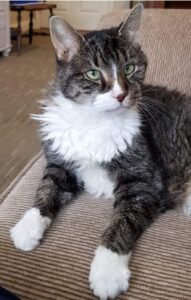 As Tabby Place's Karina put it, "Melanie was…feisty, she was opinionated, she was demanding, she was a legend."
In the before times, as a lobby cat, Melanie — bravely and notably, but perhaps not wisely — would work her way onto the top of Anka's overnight crate without her feet ever touching the ground. The standoff would begin. With Anka unable to jump and Melanie unperturbed, nothing ever came of this taunting except Anka's frustration. If Melanie was amused, she kept it to herself, (she was probably amused).
Fond of the tops of other crates too, Miss Melsie (a nickname I'm certain she despised every time I used it) developed a penchant for sleeping in the basket of diapers that was stored on top of Olive's overnight crate. What cozier campout could there be?
But, try to pet Mels? Depending on the day, the wind direction, her whimsy, acceptance or warning would greet anyone who dared. Often, acceptance. Often, appreciation. Often, greater appreciation for obeying of the unofficial cease and desist order that she carried in her metaphorical back pocket at all times. Sometimes, whimsy. Always Melanie.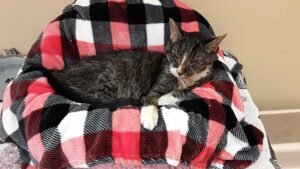 With a strong personality and zest that was tangier than a full bag of Blue Heat Takis, adoption long evaded Melanie despite her obvious charms and quirks. But, to the great joy of the humans at Tabby's Place, a stellar volunteer took Melanie home to receive the kind of doting love and attention she deserved yet received with regal disdain. Though, as reported directly from the source, Melanie barely tolerated her adopter. This was a completely satisfactory situation for a unique and special cat and her equally uniquely special human. As Mels' adopter explained, "it's okay for us to love them with no reciprocity."
So much of Melanie reflected in so few words.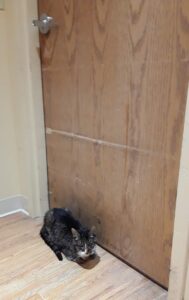 Due to a change in circumstances, Miss Mels was very recently brought back within the steady, sheltering hold of Tabby's Place. Melanie was greeted with love and affection she was not all too keen on. We persisted; she resisted. She also tolerated and sometimes actually seemed to enjoy a little attention.
It took about a hiccup for Melsie to rediscover the top of the overnight crate that had previously been a favorite napping spot. Similarly, she returned with vim and zest completely intact, accepting a pat here or there, then not, depending on the exact temperature of the room and her temperament at the precise moment. She even added a new trick: Melanie took to performing sentry duty by the laundry room door. Conveniently, her watch was scheduled for meal times.
Apparently, while her situation had changed and changed again, Melanie herself had not changed at all. Except she had. Melanie was older and more frail than she had been before she went home to enjoy a cozy sofa and all the creature comforts that her special human could provide. This feisty, strong, old girl was no longer strong.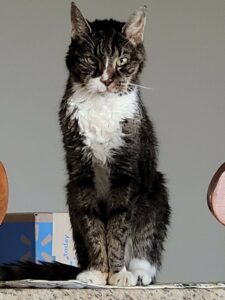 True to form, though, Melanie remained feisty to the last, going not gently, but with zest and tang intact.
Melanie was such a force unto herself that even Dylan Thomas would have been impressed. While it is probable that she never loved any person or cat as much as she loved that diaper basket or tormenting her lobby-mate, we know that we loved her enough to make up any difference. It is also probable that those on the far side of the rainbow bridge don't know what hit them when she sauntered across.
What we on this side know with certainty is that those whom Melanie left behind will never stop loving her for exactly who she was.
More Blog Posts