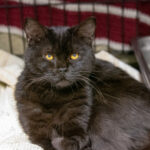 "Ebony will get adopted before she finishes her quarantine."
"Ebony will get adopted before we can post her online."
"Ebony will get adopted before we know it."
But don't you know it, Ebony is still here.*
If Ebony were a human, she might use words like "limbo" and "disappointment." Were Ebony given to smorgasbords of lyric poetry and coming-of-age novels, she might declare: "I am between the waking and the rising, a girl of the gloaming, all twilight and tiptoes."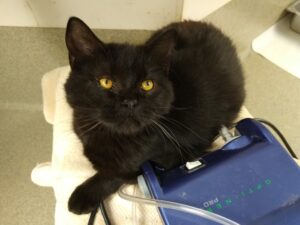 But Ebony is all cat, all humid hope, and so her tiny eyes are set like jewels on "during," not "before." Ebony is dusk and dawn playing patty-cake, and so she has no appetite for "after."
Ebony is here today, and today is where all the light gathers.
You can hardly blame us for our bouquet of Ebony aspirations. She arrived so perfect, full Ewok mane and exuberance, that we assumed everyone would see as we saw and love as we loved.
But where humans assume, cats exult. Ebony's eyes only look tiny because the world is so large, the day itself a golden dragoon. She cannot fathom that she has been given a day, when she already had such a rich yesterday, and are they already talking of tomorrow?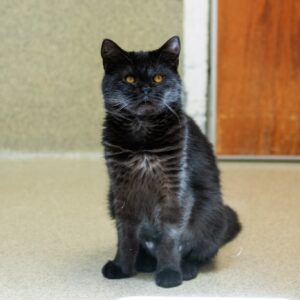 There was a time when Ebony's days crumpled into each other like candy wrappers with all the sweetness gone. The streets inflicted injuries, remodeling her lithe little legs. But as the wounds grew old, the black cat with the pistachio-eyes grew new.
She picked up speed in picking favorite people (current list: "all of them and many others"). She picked up love languages, from words of affirmation delivered via head-bonk to acts of service delivered via lap-dominion.
She picked up her little mushroom feet and stood lovestruck on the stems. No toadstool in a fairy tale could compete with our twirling girl, the cat who literally walks on her toes.
"Ebony walks on her toes because of old injuries." But human declarations are partial and pasty.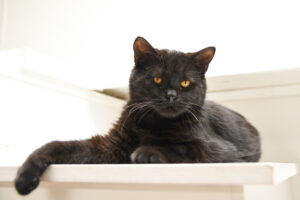 Ebony is all cat, all dancer, and so her toes are set like timers on "thrill," not "trudge." She is nostalgic for today in real-time, swirling like steam around the coffee as it pours. By "coffee," of course, I mean the decaffeinated cabaret of humans who drag their feet around the day, heavy-toed and heavy-hearted. Ebony adores us all, sooty sparkles shining in circuits around our legs. Ebony experiences cloudy Wednesdays as the good old days.
Ebony rubs our knees and elbows so fast, we can't photograph her properly. But she is the memory-maker and the dreamer of dreams, and she pokes us with her softness: "Wasn't it the best day ever when you scratched my scruff until I purred a waltz?"
"Ebony, that's happening as we speak."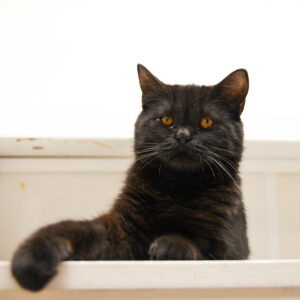 "Wasn't it the happiest memory when we made kissy faces at each other on the solarium floor?"
"Ebony, we are doing that this very moment."
But living on her toes, Ebony collapses time and expands the universe. Adoption and elk nuggets and acquisition of a fiefdom would all suit her just fine, but no future weighs more than this moment.
Were she a human, Ebony would store her sentiments in a curio cabinet, a time capsule locked shut until the day grew moss. Or mold. But Ebony is all cat, all gratitude, and she is dewy-eyed for the day she is living.
"Ebony will get adopted." We believe it. It is a matter of time.
But this is the time that matters.
This is the dawn of bliss and the dusk of dreams. Ebony wakes in the braid of belonging and sleeps in the peace of the loved. These are the best old days.
*No, no she is not here. She is there. She has left the building. She has leapt into her storybook. Yes, Ebony was adopted between the time I wrote this and the time you are reading it. Yes, time itself is kinder than we can fathom.
More Blog Posts