Cause and effect are rarely direct.
OK, that's false. If you eat one pound of Flamin' Funyuns, you will experience a direct effect. But in matters of the heart and spirit, things can get…fuzzed.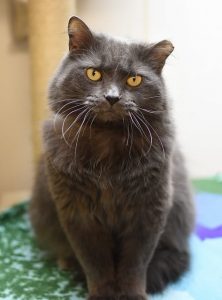 We've all verified experiments in this strange science. You input two decades of love into Child A and Child B; one becomes a confident, joyful adult with a secure attachment style, the other robs banks and thinks she's a waste of carbon. You give the best years of your life to the humans in your orbit, loving by example and trusting the day will come when love returns, and…
…and we know love and time keep their own secrets between them.
There is not always a visible return on investment in matters of the heart.
This is as true for cats as for our own kind, Fuzz knows.
If you consult an encyclopedia of saints, Fuzz will be tucked right between Fusca and Fymbert. She is simply That Good. When Fuzz was born, her inner goodness was already bigger than her body, so it shot forth in plumes of long, plush grey, an ever-present halo of…well, fuzz.
Fuzz's fount of goodness would be called upon repeatedly throughout her life. Her own kindle of kittens drank deeply from Fuzz's spring, depending on her for safety and warmth and love that transcends life. Fuzz was mother most superior, loving from her deepest instincts — but more than that, her true essence as She Who Loves Much.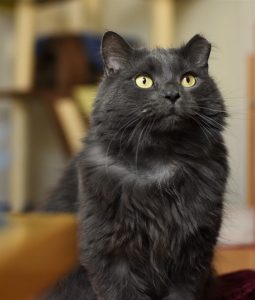 I can't presume to understand what motivates cats. I'm told their brains are astoundingly similar to our own, that we have reason to believe their sensory processing is exquisitely sophisticated. But even the far reaches of science can't unlock their love. You will not convince me that instinct and evolutionary impulse alone directs their devotion.
Certainly not that of She Who Loves Much.
As Fuzz loved her kittens with maternal might, surely she wasn't calculating the day she might be mothered herself. But — and here I borrow from a beautiful soul responding to one of our blog posts on Facebook — all love given returns.
Eventually.
By grace and goodness, Fuzz was found and fetched from the outdoors, kittens and all. Her rescuer — another She Who Loves Much, to say the least — adored her with the warmth of a million mothers. By love and grit, homes were found for all of Fuzz's babies. By hospitality and welcome, a home was found for Fuzz, right where she was.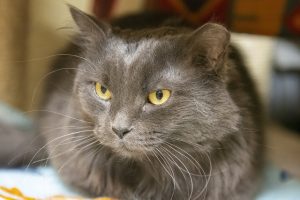 As the story goes, Fuzz was loved the way every creature is meant to be loved. Her snuggles with her rescuer-hero-magna-mama were legendary; their bond was everlasting.
It still is, even though Fuzz's mom is gone. She loves much, still, across the veil. But love beyond the veil can't keep a cat warm at night.
Fuzz had loved much, loved with all she had…but Fuzz was all alone.
Even the best of humans might dunk her head into despair at this point, if not bitterness, if not resentment. To love one's whole life, with one's whole strength, only to end up unseen, unheld, unknown…well, then, why love at all?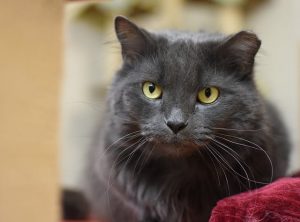 But cats are not human, and although they lick their own heinies and require 18 hours of sleep a day and gaze at blank walls for infinite spans, in many ways they are superhuman. When they love, they have zero expectation of return. They love because love is everything. They love because love is its own reward.
They love because they know, in ways we can only hope to learn, that all love given returns.
By now you know the story. Fuzz's loss of her mom was the deepest darkness of her life; dawn found her in a funny little cat sanctuary in central New Jersey, loved beyond reason and measure and anything she could earn.
Fuzz was found again.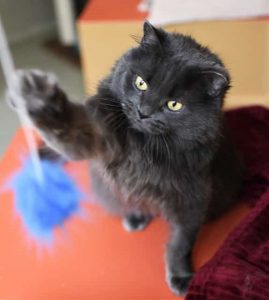 Maybe it's not quite right to say that all love given returns. Maybe it's truer that love is present all along, rippling beneath the surface, carrying us beyond the veil in unseen ways until bursting forth like Fuzz's mane of bold locks. We think, small and foolish fear-beasts that we are, that love is transactional, cause-and-effected, that we need to put in an investment. And so we feel cheated when we don't reap what we sow.
But the truth is, it's harvest time every day, every hour, every minute. And if we can't feel the hugs yet, we can still trust the ripples under our feet.
All love given returns, rejoices, regales you with songs every hour of your life, kittens. You are never far from a love that will not let you go.
Let's join Fuzz in feeling just how fully we've been found.
More Blog Posts