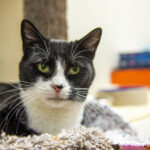 There are many things to which we should abandon ourselves: fearless affection; the song "When Love Comes To Town" (and everything B.B. King has ever touched); the breathless wave of wonder when a hawk flies directly overhead; the primeval urge to shpritz Reddi-Wip directly into one's mouth.
But we must never make the fatal error of abandoning ourselves.
Tabby's Place creatures do not abandon each other. We're a bashful bunch of ragamuffins, but if there's one thing in which we take pride, it's our sticky, stubborn love that will not let anyone go.
We welcome the strange and the strangers (some of whom are even cats).
We are chronically incapable of giving up on anyone.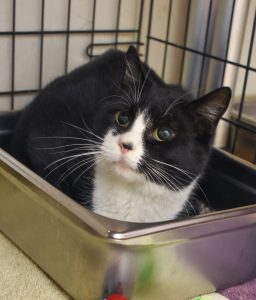 We live to love those flickering lights and bruised reeds that might be snuffed out or stomped elsewhere.
We see heaven and nature singing behind even the weirdest or weariest or angriest eyes, and we repeat the sounding joy.
Sometimes we surprise the meowing magi who follow the stars to our door. Some unseen gravity draws them, and you can't blame them for staggering around their newfound belovedness like mermaids yanked from the sea and plopped atop the North Pole, or even the moon.
As of this writing, Finola has been finding her feet at the fiesta (where, incidentally, she played roommate to Fiesta). Her blind eyes overflow with pupils and perplexity, and her tentative toes keep getting tangled up in our tree skirts. But while this once-abandoned mama cat can't see the angel at the top of the fir, she knows the lights are all twinkling for her.
It's disorienting and dazzling in equal measure.
In the astonishing manner of cats, Finola was by all accounts a holy mother. "Selfless" seems to0 pale a word for a creature that, deprived of sight and tenderness, gave her body and her breath and the best of her essence for the helpless wriggling wonders under her arbor.
But Finola gave and gave and gave, and her kittens were taken, in the unsurprising manner of kittens, to happy caroling homes of their own. All that was left for Finola was to give up the ghost.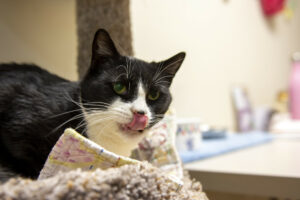 But Finola, through the mischief and ministrations of saints and angels and sturdy no-nonsense human beings, would not be abandoned.
She would not be permitted to perish.
She would not be allowed to abandon herself to despair.
And so, today, she's equal parts cozy and confused, rum-pa-pum-pummeled by kindness that doesn't make sense, even as it does remake the world.
I suppose that's precisely what we're trying to do here, day by mundane, maddening, magical day, isn't it? We're striving and sloshing along in the direction of remaking the entire world. We're nutcrackered enough to truly believe we can do it, one heartbeat, one dish of turkey-and-cheese shreds, one painstaking brushing session at a time.
But in the midst of striving to bring joy to the world, we (and here I explicitly exclude the cats) live on the razor's edge of forgetfulness.
We're at no risk of abandoning the cats — our daft hearts wouldn't permit it. But it's my consistent experience that the most golden, gigantic, bleeding hearts are exactly those at constant risk of abandoning themselves.
We fear we're not doing enough.
We fear we're not giving enough.
We fear the smallness of our efforts, swaddled infants against enemy armies.
We fear the littleness of our love.
And in the night of fear, our minds, bloated from too much gingerbread and introspection, crawl across the floor and hiss, "abandon yourself once and for all. Despair is your only honest option."
We're too small to stand against the lies.
Which is why it's a good and gasping thing that we've not been abandoned.
Even when hope is short and the night is long, there is a light that's stronger than we are.
There are songs that will sing the breath back into our lungs from Beyond.
There are small beginnings being born in and for us, insisting and persisting for our good.
It's disorienting and dazzling in equal measure.
And, in the end, we're as blind and as bliss-sighted as Finola, ill-equipped to be so beloved, but learning, day by day and cat by cat, to get out of our own way.
Let your soul feel its worth.
Listen to the sugar-plum voices that are as honest as they are sweet.
Find your tireless, heroic heart — and, yes, kittens, you people who read these ridiculous words of mine are my heroes and my earth-saints and my hope in the darkness — at home in a love that will not let you go.
Merry Christmas, beloveds.
More Blog Posts