Dear Carrot Friends,
Carrot has been very active this month. Every time I see him he is running here or there, climbing the structures in the solarium, playing, and generally being a busy guy. No idea why. Most of the other cats are lounging around and moving as little as possible because of the heat, but not Carrot. Carrot is busy.
There have been quite a few cats out in the solariums lately, a lot more than I expected with the high temperatures we have been having. I know cats like the warmth, but I go out there and I feel like I'm melting.  I have no idea how they stay there all day.
Carrot is one of several cats who have enjoyed our Curbside Volunteering this month. We have quite a few curbside volunteers who come each day and take the cats for stroller walks around the Tabby's Place property. Carrot, as I'm sure you can imagine, loves stroller walks, and he would let our wonderful volunteers walk him all day. Not all of our cats would enjoy a stroller ride, of course, but we have about 20 cats who absolutely love it.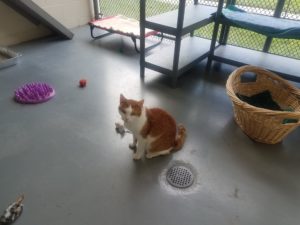 I hardly ever see Carrot inside the suite these days, he and his friends (Sparkly, Pancake, and Elijah) are always out in their solarium. They have even been joined a couple of times lately by Archer. Archer is well known for being a challenge with other cats, but even Archer is behaving himself lately.
Louie was adopted recently from Carrot's suite, which has stopped a lot of the tension in the room. Louie often started fights and intimidated the cats, so I think they all breathed a sigh of relief when he was finally adopted.
A new cat, Oscar, took Louie's place in the suite. In the few quick visits Carrot made to inside the suite, he had to check out the new guy in town. So far Oscar seems mellow, so hopefully, the peace and harmony in Suite C can continue.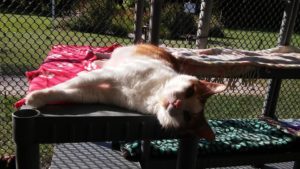 Carrot is missing his senior friends at the homes he used to visit (in our Aged to Purrfection program) before the pandemic hit, and the seniors are really missing the cat's visits. A lot of these seniors cannot have visitors and are very lonely. So Carrot and I sat down and thought about what we could do about it. Carrot came up with a plan:  Virtually Aged to Purrfection and Pet Pals. We are going to do Zoom calls with the senior homes, so the seniors can see the cats they love. We are also starting a pen pal program. In this program, our Tabby's Place volunteers are going to become pen pals with the seniors, send them photos of the cats, and tell them what the cats have been doing. Carrot thinks this will make his senior friends happy until he can visit again, and I think he may be right. I have had a lot of our wonderful volunteers sign up for this program, so each and every senior will be able to have their own pen pal (or pet pal, as we are calling it). I can always rely on Carrot to come up with a great plan to make the senior smile!
That's all the Carrot news for this month. As always, thank you all for supporting our Carrot, we couldn't do this without you.
Your correspondent,
Karina