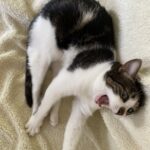 Editor's note: If you like hope, joy, and/or smiling uncontrollably, you are in the right place.
Thank you to our dear AwesomeAdopters "M+M" for this excellent update on L+L.
Yours is the kind of love that keeps us going at Tabby's Place every day.
XO, AT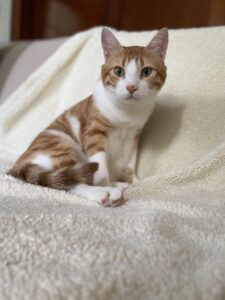 "Larry and Lina (formerly Lego and Kika) traveled to the Tri-State area from Beirut, Lebanon in March, 2023 and settled in at their new home, Tabby's Place.
Although they had many friends in their luxurious suite (special shout-out to Carrot!), they happily moved to their Hunterdon County forever home in May, and in the last several months have gradually taken control of the household.
They are truly a bonded pair, never more than a few feet apart, and are generally very respectful of the idea of 'family,' participating fully in everything from work to sleep to watching TV. They can often be found napping together, practicing good hygiene, posing for photographs, or engaging in some type of sport (generally wrestling).
Favorite foods include….well, everything (but especially Tiny Tiger brand, we suspect for the great package design).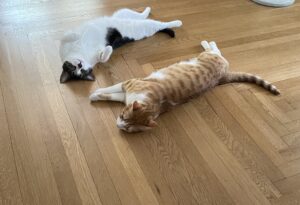 Favorite cat toys generally must incorporate catnip or a wand, although for Larry, all the world is a toy.
They seem to have learned a second language very easily, and we assume that they are now fluent in both Lebanese and English. They are also enthusiastically studying Italian and are quick to respond to directives like "Andiamo!!"
Lina has a special chirping language that she reserves for family and close friends.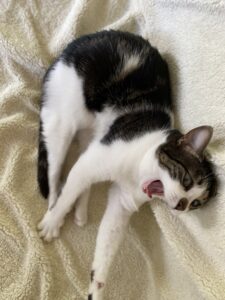 From the human perspective, seeing their two sweet, smiling faces every morning brings a new level of joy to each day." – M+M
M+M, your hearts are the destination of L+L's dreams. May love and laughter write their initials all over your days for many years to come!

Grazie mille, amici!
More Blog Posts