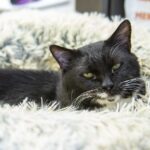 The darkest days of the year, the ones that have creatures around the world scrambling, stretching, straining for light, come in with early winter, snuggled up against the faded edge of autumn. Fallen leaves lose their crispness. Dusks release their soft glows to greys, exhaling chills and shivers. The same days welcomingly invite all that is cozy and comfortable: mugs of hot cocoa filled to the brim with steam teasing upward and melting away; flannel pajamas paired with shearling slippers and fuzzy robes; oaken embers crackling in fireplaces and warming toes.
For those fortunate enough to share their homes with four-legged friends, cuddly piles of fluff snuggle in close to each other and their people. Beds filled with such warmth and snuggles are plentiful at Tabby's Place. Tux, Shelley, and Gulliver set an exquisite example for anyone whose greatest desire is to settle in for a long winter's nap (and maybe to read a little poetry). This transcendent trio demonstrates the full force of the love that comes with being at the Tabby's Place table.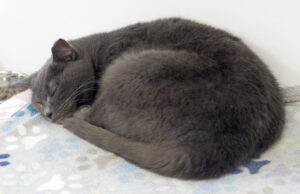 Tux is a long-timer as well as an old-timer. Long before this 5-year veteran volunteer stepped into the Community Room, Tux was holding court and winning hearts. These days, if he isn't wooing his beloved person Ginny while she works (and succumbs to his winning ways), Tux finds feline friends who will hum in counterpoint to his distinctive purr.
Sweet harmony is in the making when Shelley and Tux are tangled together. Though not quite a veteran Tabby's Place cat, Shelley has earned due honors. She has put her time in. Gentle grace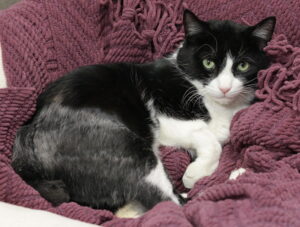 and the warmest grey are hers. She shares them with gentle love to all who venture near. Tux is a prime benefactor, but Shelley gives no one a cold shoulder.
Newer to human kindnesses, new to Tabby's Place, new to the Community Room and the company of great cats, Gulliver's travels have found him the softest, safest landing. Tales of woe have been replaced with love songs and friendship. Gulliver has found himself flanked and favored. He rests in comfort, learning from the pros how to nestle, be nurtured, and do the nourishing all at once. Tux and Shelley are perfect professors, and Gulliver is a keen student.
As these somewhat less dark winter days continue to lighten and brighten, we can examine the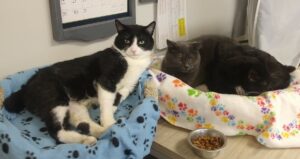 songs, the tales, and the lessons that can easily be found for the asking. We can snuggle with our friends (furry or otherwise), sip some hot cider, and settle in for long, restorative naps. We can take the time to absorb the lessons that are winter's and cats' to share. We can look to the skies and watch as grey cedes quietly to white. And, when the time comes, we will rise from our naps, stretching long and deep, to welcome whatever winter ushers in.
More Blog Posts