It's Christmas Eve, and so I'll let my words be few.
The cats want to be your manger.
We all know about that other manger, the straw-stuffed, likely stinktacular hovel that housed the holy when the inn said "nope."
And we all know the sound of that "nope."
No room for you here.
No place for your sorrows and your dreams and your strangeness.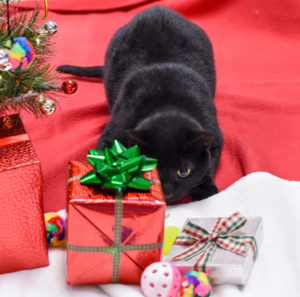 No light or warmth or bowl of minestrone tonight.
But because we know cats, and the people who cats bring together (that's you and me, kittens), we know that "nope" has an expiration date.
We know the power of being welcomed.
We know the glory of finding shelter.
We have been manger-ed by creatures to whom we owe our lives and our faith and our flickering lights.
Perhaps we have even been manger-ed most profoundly by strangers we might once have dismissed as "strange."
Obese paraplegic Lebanese wonder kittens.
Cranky hand-chompers with hearts of gold.
Wheezy gingerbread men with eyes as big as supernal saucers.
Human beings whose quirks can't hide.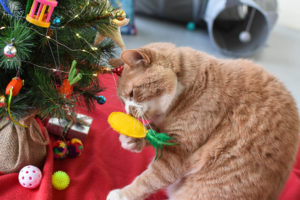 When I was a college freshman, howlingly homesick, I spent most of my time burying myself in work behind my closed dorm door. I had not found "my people;" I had not made any effort to find my people. But one night in the depths of that first winter, I was in such a wobbling state of grief, I just had to be with people.
I stumbled out into the common room, only to find myself in the midst of a gathering of (I swear I am not making this up) The Non-Human Students' Organization, or the NSO. They were dorks before dorkdom was cool; they wore costumes to chemistry; they could (and would and did) excitedly elaborate the entire metaphysics of The Silmarillion, but could not begin to understand the appeal of Abercrombie. (Forgive me. This was 1999.)
They were watching something obscure and alien-heavy when I intruded, exuding my own exhaustion and alienation. They may have been stranger-in-the-good-way than me, but I was most definitely stranger-in-the-sad-way than all of them combined. (I wasn't eating. I had cut off all my hair. I looked like Fantine just before death in Les Miserables. No, really, people actually made this comparison years later.)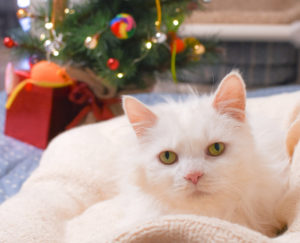 They smiled.
They told me what was on the TV and why it was wonderful.
They took me in.
By the end of the night, there were hugs and high fives and complicated handshakes from universes I'd never read about.
The Non-Human Students reminded me that I was human.
The strangest of people manger-ed me.
They were a preview of the cats and the cat people and all the undercover saints and angels I would encounter in Ringoes, NJ.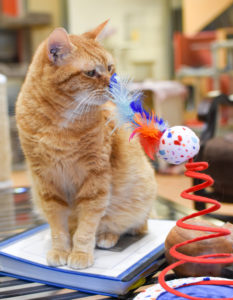 And wherever they are today — I suspect saving lives in a hundred quiet ways — they are issuing you and me a challenge.
Will we shelter each other?
Even the screamingly strange?
Even when we're the strangest specimens on the street?
Even when we're terrified?
Especially when we're terrified?
Kittens, I will readily admit that I am an alien, and I need you. And in this struggle-laden, sacred year, you have cared for me, read my words, loved our cats in large and lavish ways that leave me speechless.
In a year of emptiness, you were their fullness.
In a year of shock, you were their serenity.
In a year that kept slamming doors, you opened your manger…and it was a mansion of grace.
So let's keep this going.
Let's manger each other.
Our favorite non-humans will light the way.
More Blog Posts