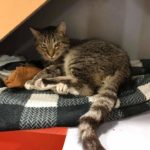 It is just over 1 hour into my 51st year on this planet (no need to mention other planets where I may or may not have spent any time).
Once again, Morpheus is elusive, so I am sitting at the foot of my mother's bed (we treasure having her with us again!), and I am transported to  a different time, a different room, and a different bed.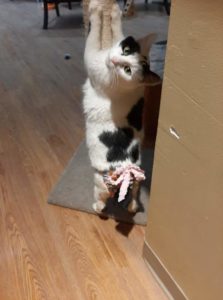 In my youth, I would visit my Deedi (Mom's mom, who lived with us) when I couldn't sleep.
Deedi was spectacular — largely self-taught, raised most of her siblings and herself, with a whole green body, not just a thumb. Every pair of her sweatpants had a crocheted pocket sewn on, and there was leopard print all over her room – pillows, ottoman, reticules, you name it, even some clothing. There was also a giant leopard rug hooking.
Despite her love of faux feline fur fashions, Deedi was allergic to cats. We had cats (mostly one at a time back then).  Not allowed in her room, whichever cat would sit just outside her door to keep company at any hour. They stayed as near her as possible, but always kept a careful distance.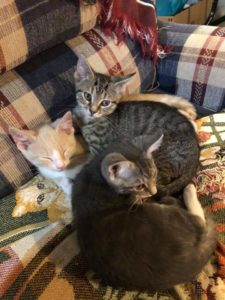 No petting. No treats. No playing.
She spoke to them. She set boundaries. They all got it. They loved her.
Maybe there is something to her hands-off technique. Maybe it was just a matter of being there, being present.
I'm not sure if there is a lesson in this that we Tabby's Placers can learn from an old lady who has long since crossed the rainbow bridge.
What I do know, as I take these first steps into my 2nd half century, is that I'm still learning from my grandmother. Maybe we all can learn something new from her old ways.
Pictured from top to bottom: Adam, Adam, Rose, McFlurry/McMuffin/McNugget pile
More Blog Posts