I don't know….would you want to go back to start this year over?
Sure would be nice to never have heard the words "COVID-19," or "social distancing," or "stay at home,", "face masks."
And the last few weeks? Well, that's a blog for another forum, not here, not by me.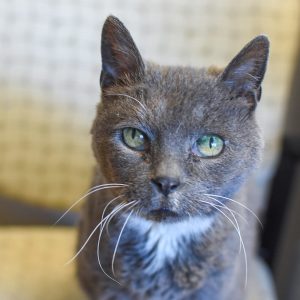 Look around Tabby's Place.
OK, now you need to do that in your mind's eye, but remember what it was like?  Can you picture the cast of characters? Walk through with me in your imagination. And let me name a few who don't always get a lot of "air time," to jog your memories.
There's Bacon (pictured above), our handsome boy with his mysterious mind.
Anita, who just wants to love you.
Bobby, the striking orange tabby who wants nothing more than to get out of a building full of cats and be someone's one and only.
Heather, our gorgeous dilute tortie who hides her beauty from the world under a pile of blankets.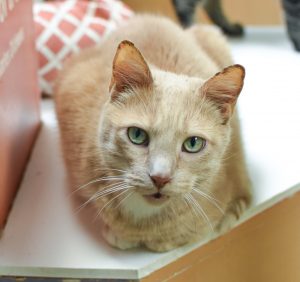 Walk the halls, pass by the suites and solaria, feel the feeling, hear the kitties, smell the fish food.  Who is your favorite…if you can have just one?
Remember the hustle and bustle of a busy Saturday afternoon, where you might come across kids reading to the kitties, new volunteers being oriented to the magic that is Tabby's Place, or some special felines being walked around outside in their strollers?  Or — oh joy of joys — so and so is going on to his/her forever home. Remember? Are you smiling? I'll bet you are….
But here is another thought….do they remember? I don't know. There will soon come a day where we will no longer have to imagine, when we can actually be there, really be there.  I'm betting the cats will be smiling, too, when their home is once again filled with their admirers. All will be right with the world of Tabby's Place once again.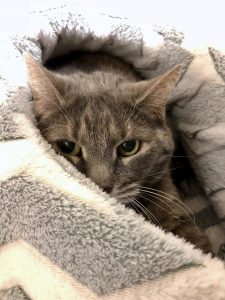 To say a lot has happened this year would be an understatement. The word tossed around (not so lightly) is "unprecedented." I don't know what's truly coming around the corner, but I'll leave you with something I am plagiarizing from a source I can't recall (I'm old) by someone summarizing 'The Grace of God:"
Here is your life. You might never have been, but you are because the party wouldn't have been complete without you. Here is the world. Beautiful and terrible things will happen. Don't be afraid.  I am with you. Nothing can ever separate us.
My personal belief is that this is meant for all beings, including those who happen to reside at Tabby's Place, in the little hamlet of Ringoes, NJ.
Hold on just a bit longer….what I do know is that the reunion is coming.
Editor's note: That quote is from the matchless Frederick Buechner, whose works everyone should read in their entirety, preferably more than once. I mean this. XO, AH
More Blog Posts