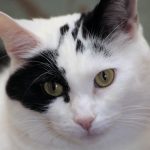 In 1994, I adopted my first kitten.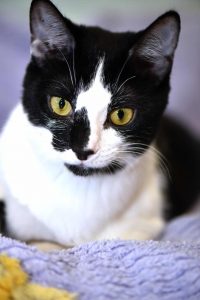 No, growing up on a farm, she was not my first cat. But, she was the first one I sought out at a shelter (once I found out such a place existed) and adopted, and for whom I would be the responsible adult.
She turned out to be one of my greatest teachers,  and, over almost 18 years, she filled my life with so much joy that I decided I wanted to give back.  That started my volunteer journey in 1996.
I started in the gift shop of  a large shelter in North Jersey, then made my way into the cattery there.  My volunteer positions over the years have run the gamut from cleaning, feeding, co-coordinating a feline socialization program (with a dear friend who later joined me as a Tabby's Place volunteer), training the volunteers working with the cats, and serving as feline adoption counselor. This all led to my becoming certified in animal energy therapy and becoming a Tabby's Place volunteer.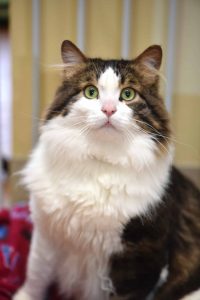 Volunteering is one of the true joys and rewards in my life.
It would be impossible to tell how many times people have said to me over the years that they would love to volunteer, but just don't think they could do it:
"Oh, that must be so hard."
"It is so sad to see all those homeless animals."
"I'd want to bring them all home."
"How can you do THAT?!"
Well, in the words of John and Paul (for you young 'uns, they are half of a musical group from the last century called The Beatles), "All you need is love."
It was once reported that, when Mother Teresa was asked how she hoped to help all the downtrodden of Calcutta, she responded, "I'm going to start with this one." That has been my volunteer mantra, and I have to tell you, as a volunteer, you get so much more than you give.
These beautiful feline souls know — they just know — when someone reaches out a kind, loving  hand.  Just look at the faces of Anka, Rose, and Nina, to name a few.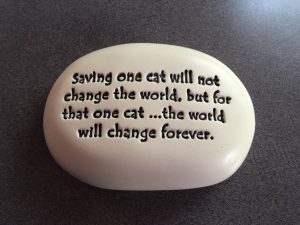 If you are reading this blog, you love cats.  That's all you need to start on your own volunteer journey.  There are so many different volunteer opportunities at Tabby's Place, and given the size of the sanctuary, volunteers are always needed…and appreciated.
As a Tabby's Place volunteer, let me take a brief moment to address that last word — appreciated.  I have, and continue to, volunteer at a number of different facilities, but there is no other place like Tabby's Place.  You will become family here, and you will be appreciated.
So if you can spare some time and have love to give, become a member of the Tabby's Place family.  I promise: you will get more than you give, and you will not regret your decision.
More Blog Posts