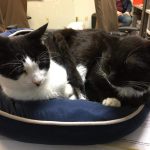 First things first: the Ringoes, NJ metropolitan area is not formally having a "cold emergency."
Unlike our very real heat emergency, this one is entirely our invention (and by "our" I mean "mine," because I am the World's Biggest Winter Weenie, and I enjoy hiding behind the mantle of "our").
That said, the cats know and I know: we are having a cold emergency.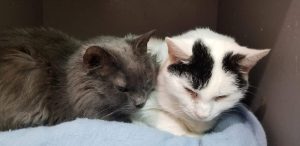 After a glorious autumn lasting approximately three days, Ringoes has plunged into temperatures that, as the weatherfolk love to tell us, are record-breaking in their rawness. Nineteen degrees is scarcely tolerable in January, but in early November?
It's an outrage, except that we have no one to rage at.
So, since raging is rarely an elegant strategy, we're just going to love.
We're going to forgive the wonkiest weirdos and bring hot coffee to the coldest curmudgeons. We're going to share our floofiest blankets and our hearts. We're going to bundle up in our toastiest thoughts, ambushing each other with affection.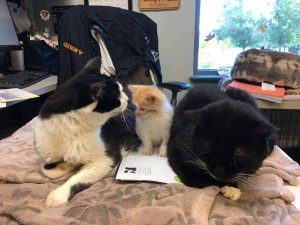 And, if we're feline, we're going to choose some odd and awesome bedfellows.
When it's colder than chaos in your neighborhood or in your spirit, there's only one thing to do: cuddle. Even at your shiveriest, you have The Warm within, and you can't get cozified without cozying right back.
Literal hugs recommended but not required. Let's end this emergency the only way we can, kittens. It's time to mush against the machine.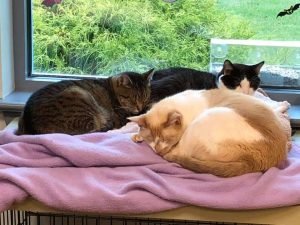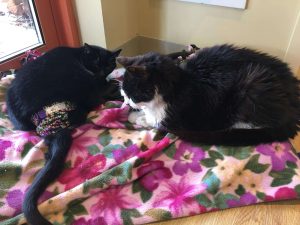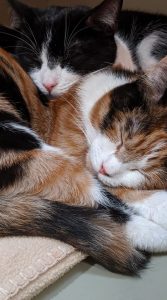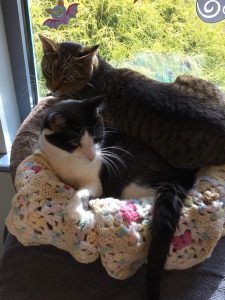 No, you are not imagining it: Puzzle, Tux and Sammy are shamelessly over-represented in this post. But that's only because their year-round huggitude has inspired millions. Or at least Polly.
More Blog Posts