Tux is a mature, stately fellow who wears his soft tuxedo with grace and charm. As a young stray, Tux was hit by a car. The impact crushed his pelvis, but he survived, and, with time, healed from his injuries. He was bounced around to four different homes before finding his way to Tabby's Place.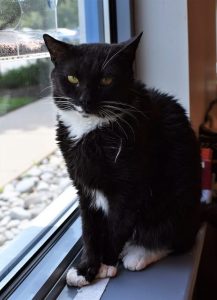 Tux hasn't let any of this drama dampen his spirit. Although he's technically "elderly," you wouldn't know it by watching him scamper around the Community Room. While he prefers a warm and sunny perch where he can spy on the birds, he is frequently seen aloft a tall cat tree or storage shelf, or maybe disguised in a cardboard box or paper bag that a thoughtful human abandoned for his exploration.
Tux is a quick friend to all he meets, human or feline. Snuggles are welcome interruptions, and Tux will seek out staff and volunteers for love. He prefers the hand-held brush to his own tongue for all his grooming needs.
Yet do not be fooled by Tux's distinguished tuxedo. Beneath the seemingly polished exterior rests a free-spirited sense of self and the world around him. Maybe it has something to do with the particular curl of his whiskers, his uneven mustache, or the small chin goatee? There is something mysterious about Tux, something magical. It draws you in and keeps you enraptured. But blink, and Tux will frisk to the opposite side of the room to attack a scratching post or an unsuspecting catnip mouse.
Tux's old injuries left him with a narrowed pelvic canal. As a result, he is prone to constipation. We treat this with several medications and a special prescription diet. More recently, Tux has developed heart disease with a systolic murmur and an arrhythmia. He does not require medication at this time, but we monitor his blood pressure. He also has two echocardiograms each year to monitor the progression of the illness.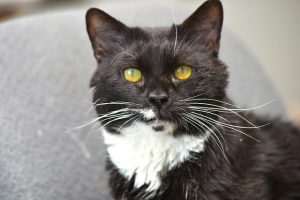 Tux's charm and easy going attitude have earned him a place in our "Aged to Purrfection" program, meaning he makes regular visits to local nursing homes. Aged to Purrfection cats are exceptional kitties, selected for the program on the basis of their gentleness with people, their confidence, and their knack for delivering joy. Our Aged to Purrfection kitties make their merry visits each week, on a rotating basis. Each is also a certified therapy animal.
Tux is hopeful that he will steal the heart of a family and make one last bounce into a home of his own. Until that day arrives, you can support Tux by becoming his sponsor.
Adopt Tux
Start the application process now.