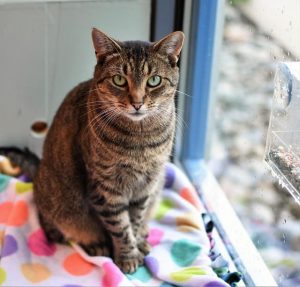 Samantha was born in a feral colony on Staten Island. A couple who had managed the colony for years found themselves in love with the little polydactyl.
Alas, much as Sammy adored her humans, she had no room in her heart for their other three cats. The tabby teenager became a tyrant, terrorizing her housemates until they were petrified to leave the basement.
With heavy hearts, Sammy's rescuers arranged for her to come to Tabby's Place through our Exceptional Circumstances Program.
If that were Sammy's entire story, she'd be on the fast track to a forever home. Alas, our veterinarian detected a very severe heart murmur and a cardiac ultrasound revealed that Sammy has a ventricular septal defect, or VSD; literally a hole in her heart.
The hole in Sammy's heart exists between her heart's two ventricles. Each heartbeat causes Sammy to lose some of her oxygenated blood.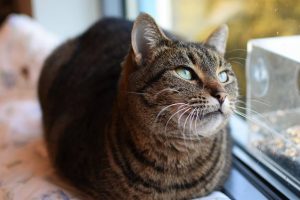 Fortunately, Sammy's VSD is mild, and we are optimistic that she will enjoy a long, healthy life. We will monitor her heart's condition with echocardiograms and cardiac ultrasounds every six months.
Sammy is an energetic girl with oodles of love to give – and, we pray, a long life yet ahead. We know that Sammy's uncertain future means she will need a very special adopter. As she awaits her forever home, you can sponsor Sammy and help provide for her needs. Please give your love to the cat with the unforgettable heart.