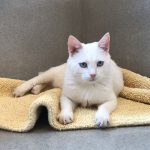 When the world opens, will we be open?
What if it has to shut again, like a luminous eye that suddenly snaps shut when dust flies in?
What if things get better, or worse, or both in different ways?
What if…?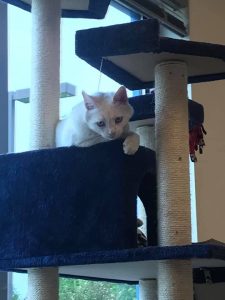 You don't need me to tell you that, even as summer tickles our shoulders and new signs of hope peep over the hedge, we're fumbling our way forward.
As of this writing, lockdowns are lifting — too fast? too timidly? — and we, at Tabby's Place, are piecing together the baby blocks of a careful plan for a future we can't control. (Spark Notes version: we're not reopening anytime soon, but we're moving in the direction of the direction of the direction of someday moving in that direction. Make sense?)
If you're anything like me — and, because I love you, in many ways I hope that is not the case — all these questions make you quivery. All this hope humbles you because it also kind of scares you. You've gotten used to the safe yet shuttered situation I refuse to call "the new normal," and you yearn to fling the windows open but don't know if you can handle full sun again.
I'm here to tell you (and me): you can.
Yes. You are that kind of plant.
How do I know this?
Bounty told me.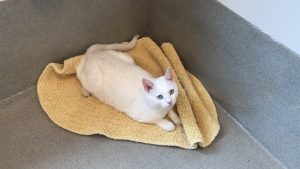 Bounty, you will recall, is the Lebanon-born beauty with no hearing but infinite sight. She is a complicated creature (the best and only kind), loving and anxious and sage and insane. We're not sure if she was named for a pirate's prize or a high-quality brand of paper towel, but either way the title is apt: she is extremely valuable.
When the world toppled over ten weeks or ten millennia ago — I have lost track — Bounty was relatively new to Tabby's Place, and not yet sure whether she wanted to be our personal prize. Like a snow-white squirrel, she swung wildly between mad love and mad…ness. She was what my grandmother would call "nervous in the service."
We were, nevertheless, entirely at her service.
For reasons not interesting enough to detail here, Bounty and a bunch of her buddies took up residence in the large, sunny room that is usually the Feral Room at Tabby's Place. This had some poetic justice; although Bounty wasn't feral, she was unrepentantly freaky, more than a little prone to freak out on us for any and no reason.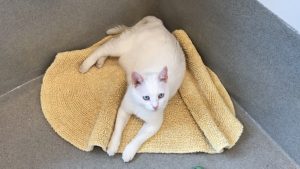 But a funny thing happened in the Feral Room.
Bounty grew.
Bounty played.
Bounty watched us very, very, very carefully.
Bounty mopped up a million gallons of sunshine.
And Bounty abounded in a new, true trust.
Next thing we knew, Bounty was rubbing and purring and seeking us out in sweetly silly ways. (I must interject here that, every time I say "us," I tragically mean "the lucky/tireless/titanium-strong on-site staff, who I admire more than Hercules and from whom I obtain stories from my high-risk-person, work-from-home, weirdo-writer Pennsylvania quarantine, dies irae".) Bounty was happy, and trusting-ish, and bringing more laughter than a lawn full of lemurs. (But if you have one of those, please send video.)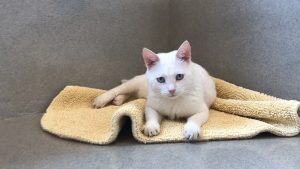 We are not cats, you and me, but we are blessed to be in the presence of greatness. By grace, greatness rubs off, and we can borrow Bounty's bravery. In her years on earth, from one end of the earth to the other, the sun has painted the skies many, many different colors over Bounty's head. She has handled it heroically, gracefully, goofily, even as life has manhandled her and made her grow, like it or not.
If Bounty could boost us today, I know she'd tell us we're stronger than a store brand paper towel. We're more treasured than a chest of goooooooooold (specifically when it's pronounced that way). And we're far more capable than we give ourselves credit for.
We're going to need help and hugs from beyond ourselves in the days to come. But, haven't we received them in the ten weeks just past? Can't we trust that the strength and sun and daily bread will keep coming even as the skies change again?
I'm trusting that with all my strength, kittens. And even as I tremble to my toes, I tingle to imagine all the sweetness yet ahead. We will see it together. Bountifully.
More Blog Posts