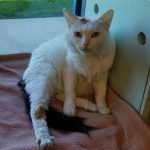 We're making it through the pestilence.
We survived the murder hornets.
Then the locusts came.
The weeping cities and burning hearts.
And now, as a treat, earthquakes, tropical storms, and, locally, hailstones the size of moons.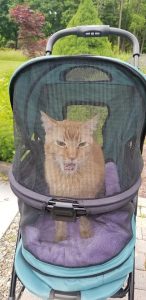 Refresh my memory: what comes next, rivers of blood, monsters busting through the crust of the earth, or the One Direction reunion tour?
Yes, things are feeling moderately apocalyptic these days. But let's not replace our daybooks with the Book of Revelation just yet.
After all, we are the cat people.
We know: sometimes there's a lot of hissing before there's a little handling.
We've learned: sometimes you have to hang out at the top of a tall, tall ramp before you can hang your white flag and surrender to love.
We mustn't forget: sometimes you're smack-dab in the middle of a hopeless situation…but that's the only way you end up at Tabby's Place. (Just ask Lucinda, gratuitously pictured above.)
Whether you're feeling apocalyptic, euphoric, or mildly "meh" (perhaps the Provolone cheese of the emotional spectrum), may you remember: your metaphorical Tabby's Place is coming.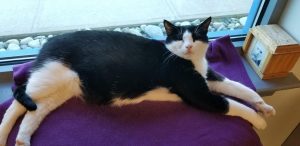 You will feel safe.
You will be rescued.
You are already on your way where you belong.
And, as a treat, the non-metaphorical Tabby's Place will be back in all its glory, too.
So let the hail holler down on us; bring on the black skies. We will find our way back to fullness of joy. And maybe, just maybe, we'll be larger, wiser, able to hold so much more.
May your cup overflow even in the apocalypdays.
More Blog Posts