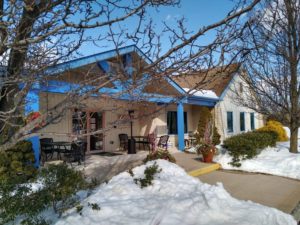 Dear Friends,
Well y'all, I must have had magic in my wishes for snow because we had two snowstorms (I prefer snow gifts) in the past month—wow!  I almost forgot how beautiful the big flakes looked falling from the sky.  I found a plush warm cat bed by the lobby front door and reckon that I spent entire days watching the snow.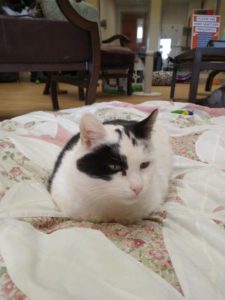 I crossed my paws that maybe a staff member or volunteer would make a giant snow cat outside, maybe next time.  I wonder how the snow would feel on my feet and fur, and how it would taste on my tongue.  No worries, I have no desire to find out!  The first snowstorm was big.  Y'all know how much I love the Tabby's Place staff.  Well, 2 staff members had a sleepover in the lobby so that they were here to give morning medications and be sure we all had our morning food.  Talk about being in kitty heaven!
I hope the weather where you live is starting to make its way towards spring.  The weather really does not matter to me as long as I have you as my sponsor.  A day does not go by that I don't think about you and thank you for being an important part of my life.  I have lots of love for you in this li'l furry black-and-white body!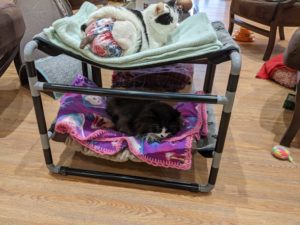 We cats are fortunate because there have been a few days where the weather was warm enough for stroller rides.  These are days you can literally hear all of the cats in the sanctuary rejoicing!  Our favorite volunteer brings the stroller into the lobby and we all line up to take turns.  My climbing adventures continue, I taught myself to pull up my body into the stroller, with no help!  I even enjoyed sleeping in a bunk bed with Sophia in the lobby because I got to climb to the top bunk!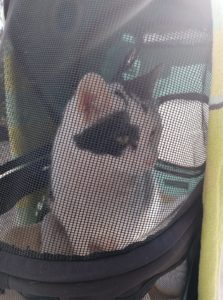 I do declare, I so enjoy my dual residency in the Lobby and Suite A.  On occasion, I am a mystery to the staff.  Some days I greet the morning staff with a leg rub signaling that I am ready to return to the lobby for my day's activities.  Other days I run from the morning staff and hide in the tube or solarium so I can remain longer in Suite A.  My mama taught me to "keep em guessing, don't be predictable."  As y'all know, one of the big bonuses of my time in Suite A is spending time with my oldest Tabby's Place friends.  Mary—who just might be as sweet as a tall glass of sweet tea and a fresh slice of pecan pie— and I have been pals forever.  My correspondent found 2 photos for me to share with you of Mary and me over the years.  I would say we both aged very well.
While Tabby's Place remains closed to the public d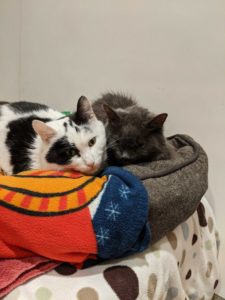 ue to COVID, we continue to do very well with video adoptions.  It warms my tummy to see the cats continue to find wonderful homes.  Recently, my lobby friend Melanie (a 16-year-old youngin') was adopted, and I was tickled pink!
During the pandemic, our routines have stayed regular, which gives us a strong sense of security.  Since we lobby cats know that the dinner trays with our food come out of the laundry room, we line up by the door in anticipation of our dining adventures.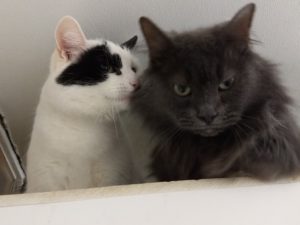 Each of us cats has our own eating rituals.  Divya, the receptionist cat, eats better when a human holds her food dish (my correspondent is happy to help).  Walter prefers a dish with half wet, half dry food.  Stanley waits by the laundry room hours in advance, and he has a special raised food bowl to help him eat.  Olive (and yours truly, please don't tell) can be spotted helping "dispose" of leftovers.  I am happy with most food selections, and if not, a kind feeder brings me another selection to taste.  In the role of lobby "welcome ambassador," I recently greeted two new roommates, Valerie, and Elvira.  Both are extremely sweet, and like me, are special needs kitties.  Valerie is paraplegic and Elvira is blind.  Tabby's Place has some amazing cats, and I cannot wait until the world is right side up and visitors come through the front doors again.   I will be waiting to greet people as well as receive belly rubs.  I remain optimistic that our right side up day will come, sooner than we all think!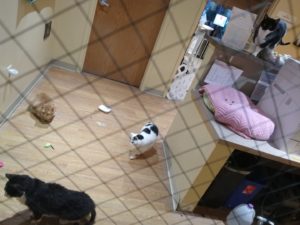 My health report is as busy as I am with activities.  My periodic episodes of coughing have continued, and the staff is keeping an eye on me.  I also developed a UTI and am being treated with antibiotics.  I don't think I shared this, but at Tabby's Place, there is a medical log for volunteers to capture information if cats might have a medical issue.  Volunteers may also go directly to staff in an emergency.  It means a lot to have so many people care about our health.  My correspondent knows that I am feeling a bit under the weather, so she brings me extra treats when she volunteers, along with gentle belly rubs.
I hope that you enjoyed your Valentine's Day, sending you sweet chocolate whisker kisses!
Love,
Rose
(With help from your correspondent, Ilene)