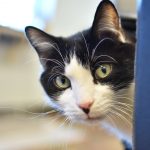 I had no idea, when I wrote Puzzle's piece, that last week would be his last.
"Here I am!" he cried, triumphant, to the end.
"Yet I live!" he sings now, even now.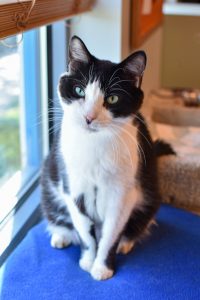 In the end, Puzzle provided no riddles. We were not left struggling with the crushing questions: "Is it time yet? One more day? Maybe he'll eat tomorrow? Maybe…?"
He ate, and loved, and loped about the Community Room until the end. The hour of his departure was clear when Puzzle suffered a seizure. Love meant listening to his urgency, and tearful calls were made. "We're letting him go in fifteen minutes. We don't want to make him wait."
Puzzle had nothing else to wait for. His last morning on earth had shimmered the same way as all his best mornings: cuddled with friends, a puddle of Puzzle in full sunshine and full belovedness. His cup overflowed. He lacked nothing. He had lived life to the full, and he would enter Life all luminous with grace.
I believe Puzzle left one circle of friends for another, far wider and warmer. The weepy humans of Tabby's Place faded in a haze of sun, giving way to a great gallery of cats and folks and saints and angels we can't begin to begin to imagine. The cat who once lived in shadows had tasted the bliss of love while still on earth; now his "Here I am!" would be answered ever more perfectly.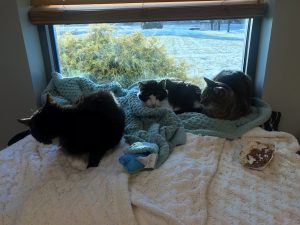 Back here, in the dust and the riddles and the glory-glimmered sorrow, we grieve. We share a fresh wound, one more to add to the collection that never heals but never shuts us down to love and loss. It's entirely possible we are fools to put ourselves through this again and again. It's entirely possible that fools will save the world.
As tears come in and out like tides and we find ourselves looking around corners for a skinny black-and-white cat, we are more whole for having been Puzzle-d. If our boy taught us anything, it's to keep moving forward with hearts wide open and no hard feelings.
Until we meet again, sweet mystery, true friend, faithful Puzzle.
More Blog Posts