Greetings, Yardley Sponsors!
I hope you all are well and, if you were in an area where Hurricane Ida hit, I hope you are safe and did not have damage from the storm.
Yardley is doing well. She is eating well, having normal stool, and enjoys hanging out under my older son's bed (making photo shoots a challenge). This is where the rabbits live. They like to go up and sniff her and she bats at them. There does not seem to be a whole lot of hissing or growling. Everyone is co-existing as well as they can.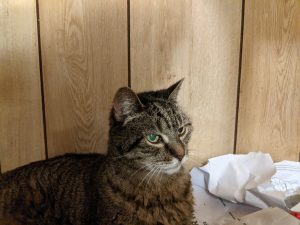 We were supposed to get Yardley's EPI blood work done last week but Hurricane Ida threw us all for a loop. Everyone is okay, but we are still catching up. I do plan on getting Yardley in to Tabby's Place soon for her routine blood work.
Yardley grooms herself but she still gets some matted fur. She is not a huge fan of brushing, but I have learned a few tricks. I make the grooming more like a petting session. I go very slow and also do lots of pets as I slowly detangle the mats. She still hit me a few times but she did not run away. I call that progress.  Side note: this technique did not work on my other cat, Arwyn.
Everything else with Yardley is good.  She is a happy girl. Thank you for continuing to sponsor her!
Your correspondent,
Jess
---
A special note about your sponsorship of Yardley. As you know, Yardley continues to enjoy a very extended stay with her forever foster family. You've helped to make this possible for her by supporting her medical care, and we are forever grateful for your generosity!
But, since Yardley does not live on the premises at Tabby's Place, the responsibility for providing updates each month has fallen entirely on her very busy foster family, rather than one of our volunteers.
To ease this burden on Yardley's family, we will be transferring your sponsorship of Yardley to another Special Needs kitty, who does live at Tabby's Place: Boobalah. You can read all about this sweet lady here.
Like Yardley, Boobalah is a middle aged, female tabby cat with a particular set of Special Needs. Boobalah has heart disease and is partially incontinent.
If you would prefer to have your sponsorship transferred to a different Special Needs cat, you can read about all of them here. We know Yardley is very dear to you, so from time to time we'll be happy to include brief updates on her within Boobalah's updates. Thank you so much for your generosity to all of our cats!