Boobalah exudes all things sweet and welcoming. She loves the companionship of both humans and other felines. When she isn't prancing around the Lobby of Tabby's Place, she is likely curled up near another warm body. Rumors abound of a special romance between our petite Boobalah and our robust Bellamy (who arrived around the same time and both moved to the Lobby). The two frequently curl up side by side in a cozy nook or on a fluffy blanket.
Boobalah recognizes an available lap for the what it most certainly is… an invitation to curl up and visit for a spell. It's no wonder Boobalah is a favorite of so many volunteers and visitors that come through our doors.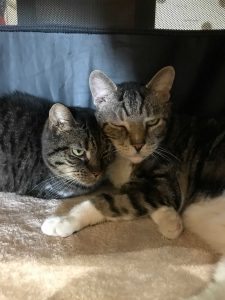 Before coming to Tabby's Place, Boobalah likely experienced a stroke. We do not know what caused the event, but it likely impacted her nervous system leaving her partially incontinent.
While she will, on occasion, use the litterbox, she is unable to fully empty her bladder or colon. We assist her with expression three times each day in order to keep her healthy and infection free.
Boobalah receives daily medications for both high blood pressure and mild left ventricular hypertrophy (a thickening of the heart wall). We check her blood pressure every few months to regulate her medications and make any necessary adjustments.
While Boobalah's medical needs are easily managed, it will take a special someone to present a lap and a home for forever. Meanwhile, Boobalah is happy to call Tabby's Place and all of her extended family, home. Will you sponsor Boobalah and join her warm and welcoming family?
Adopt Boobalah
Start the application process now.