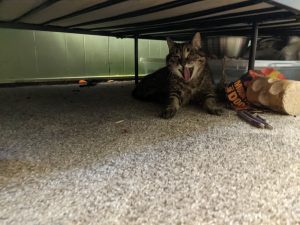 Greetings, Yardley Sponsors!
I hope you are staying cool.
Yardley is doing pretty well. She had a bit of an upper respiratory infection last week but it only lasted a day. I noticed the sniffling and congestion late on a Sunday night. The next day I brought her to Tabby's Place.
The congestion was gone but her weight was down.  She has been eating well. We ran blood work, which all came back normal. It is unclear what is causing her weight loss. She is still eating well. I will check her weight again this week and see where she is at.
My only other thought was that Yardley had moved her "spot" again. Now she is spending a lot of her day in my other son's room. This room does not have cat food in it. We make sure she is back in her room for breakfast, overnight, and dinner. She also always seems to be eating a good amount of her food. She is just not snacking during the day as often.  We will keep monitoring her.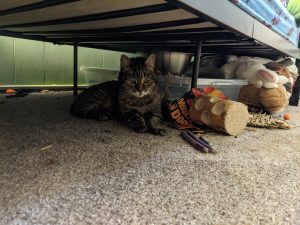 Next week we have planned to retest her for EPI. I know I have talked about this before quite a few times. The test for EPI is a fasted blood test so it needs to be planned out to make sure Yardley has fasted.
Thank you for all your support of our girl.  We can take such good care of her because of you!
Stay cool out there, Yardley sponsors!!
Your correspondent,
Jess