Greetings, my beloved sponsors!
March has begun, and spring has sprung! We had a bizarrely mild winter here in Ringoes, NJ and I barely had time to get used to hanging out indoors. And now, poof! It is already "outside" weather again!  Can you believe it?? Trust me, I am in no way unhappy about this. You know I love to spend time in the fresh air.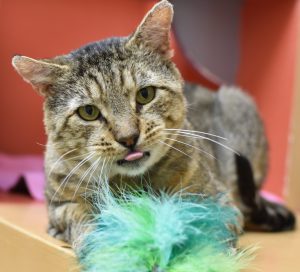 And these days I have plenty of space to stretch out because our suite has been a bit empty lately since Shea, Nikki, and Wilson were lucky enough to be adopted. Although I must say that our newest roomie is taking up quite a bit of space with his attention hogging ways.
His name is Topache, and he appears to love human affection even more than I do if that is at all possible. The humans seem to love his chatty, friendly ways. I, however, am not such a fan. As you know, I love to be the first kitty to greet humans when they arrive and soak up all of the pets I can get my little paws on. But now I have serious competition with Topache.
It will be a perfect test for my new skills, however, which is not a bad thing. My friends here who have been working with me and teaching me better ways to manage my anger keep telling me that they have confidence in me. They encourage me to trust myself, and I am trying to do just that. I know that my behavior medications and routine are helping me tremendously, and I am in such a better mindset than when I first arrived here at Tabby's Place.
Thanks to your love and sponsorship, I am on my way to finding my forever home. I just know it! Oh, and I am happy to report that I have had another healthy month, and it is all thanks to you!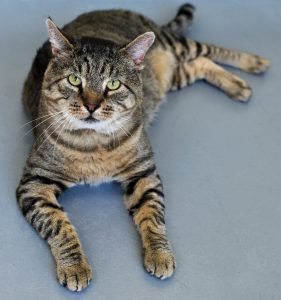 So I will promise you right here and now, that even when Topache or any of my other roomies test my patience, I will do my best to stay calm. My human friends here tell me what a good job I am doing when I walk away instead of losing my temper, and this encourages me to keep trying.
I hope you enjoy the pictures that I am including in this month's update. One of my human friends here took them, and my correspondent kept telling me how handsome I look. She thought we should especially choose the picture with a sparkly green toy because there is a holiday this month called St. Pawtrick's Day (or something like that?) to celebrate the color green. I am a bit embarrassed that my tongue is sticking out a little in that picture, but my correspondent said it's cute!
So as this month goes by, please remember that I am sending you lots of tiger-striped love. Thank you for everything you do for me! Until next month, I love you!
Love,
Rufus
(With help from your correspondent, Florie)
Postscript: In light of the arrival of COVID-19 in New Jersey, Tabby's Place is currently closed to the public except by appointment. Please click here for our official COVID-19 response.