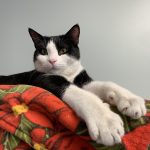 It's been said that generosity has the power to unite and heal communities in good times and bad.
Generosity is what Tabby's Place is built on—the generosity of our donors, our volunteers, our board, our staff and our extended community.
Tabby's Place brings people from around the world together in a united mission to rescue cats from hopeless situations. But Tabby's Place is also a source of healing, not just for the many cats who are fortunate enough to come to us and start anew, but as a source of emotional and psychological health for the humans that call it a part of their family.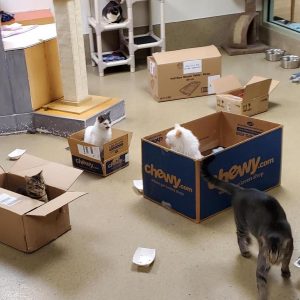 These days physical community is taking on new shapes and sizes from remote locations and socially appropriate distances. We understand how hard separation must be on our volunteers and local supporters that miss in-person time with our kitties. The staff have been working hard to bring emotional well-being to our community in the form of photo and video updates on our volunteer group Facebook page, virtual live tours on our public Facebook page, and even Facetime/Zoom calls with high risk individuals.
After a ten plus hour day of on-site cat care and cleaning, I am physically exhausted, but the time I spend in the company of the Tabby's Place cats on my two designated work days each week is emotionally, psychologically, and spiritually restorative. I am not alone in feeling this way. I have heard so many volunteers voice the same sense of rejuvenation after a visit with their favorite felines.
While we wish we could safely open our doors to each of you right now, today we are asking you to help grow and nurture our Tabby's Place community in a different way. A worldwide pandemic touches everyone and presents an opportunity to come together as one powerful force.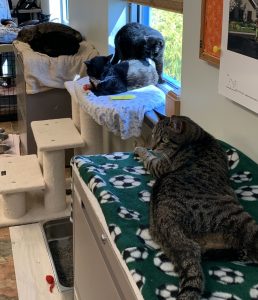 You may have heard that the generous folks at GivingTuesday have announced the kick off of #GivingTuesdayNow—a global day of giving and unity that will take place on May 5, 2020, as an emergency response to the unprecedented need caused by COVID-19. Tabby's Place is excited to be participating in the #Nonprofit Matching-Fund Initiative which means donations are supplemented by available match funds on both national and statewide levels.
What can you do to help nurture our community? If you were planning to give, we would be grateful if you would do so today. While the global day of giving is set for Cinco de Mayo, the #Nonprofit Matching-Fund Initiative applies to all donations collected between now and May 26, 2020 through our donation page. You can help make this a big success through the power of your virtual social networks!
Here are four easy ways to help spread the word to your network:
Forward the link to friends and invite them to contribute. Be sure to tell them why Tabby's Place is personally important to you and your sense of community.
Post the link to your Facebook page or profile (tag your friends to encourage others to do the same and get some social traction).
Post to LinkedIn.
Tweet about your support for our campaign.
In the United States, Cinco de Mayo is celebrated through the sharing of Mexican food and beverage. It's become a celebration to recognize and honor identity, ethnicity, and community solidarity. Since most of us won't be going out for enchiladas or margaritas this year, I'd suggest that we think more about the community aspect of this day and celebrate the communities that bring us joy, unity, and health.
More Blog Posts