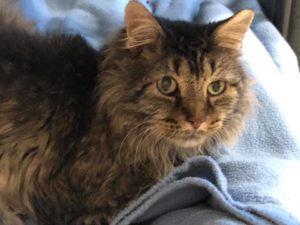 Happy New Year, Stafford Fans!
A new month means another update on our sweet boy. Medically, Stafford has cruised through the past four weeks. He's eating well, his weight is steady, and he has once again acquired a beautiful fluffy coat, which we are happy to report that he's keeping in pretty good shape (you can see that in the attached photo). He's calm and affectionate, as well—more signs that he's feeling good.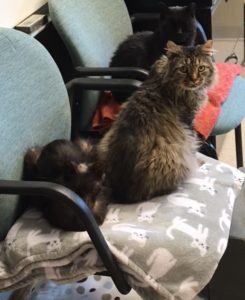 One of Stafford's office mates, Mr. Dracula, receives medications twice daily. If you've ever tried to pill a cat, you know it can be quite a rodeo. But recently, we've discovered that Mr. Dracula adores pill pockets and will happily take his meds when they're given that way. You also know that there's no such thing as giving perceived treats to just one cat if there's more than one around. So when Mr. Dracula gets his pill pockets, his office mates, including Stafford, receive a few treats. Understandably, Stafford is very pleased with this arrangement!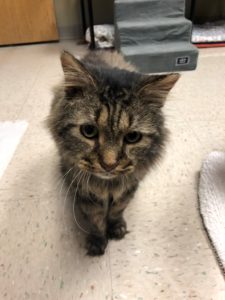 Stafford's photos don't really do him justice; he's much more handsome in person. We remain hopeful that someone out there will fall in love with this wonderful boy and take him home.
Until that happens, thank you for helping us keep Stafford in style. We wish for you a new year filled with hope and joy!
Your correspondent,
Stephanie