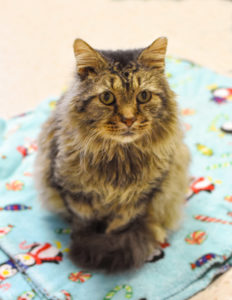 Hi, Stafford Fans!
Ready for an update on our shaggy boy? There's a lot of medical news this month, so let's get right to it.
Stafford experienced some weight loss over the past month. He had his blood glucose curve done recently, and there was no change in results, so we'll do the curve again in three months. He developed an upper respiratory infection as well and was started on a course of antibiotics.
One morning over the past month, our senior vet tech went into the Executive Director's office where Stafford lives and found Stafford twitching and minimally responsive. It turned out that his blood glucose level was very low. He was started immediately on IV fluids and a bit of corn syrup; within  a short time, he was perky and eating. But talk about a scare! We are always very careful in monitoring the health of our diabetic felines, but this incident goes to prove that anything can happen. Needless to say, we are being extra vigilant around our boy now.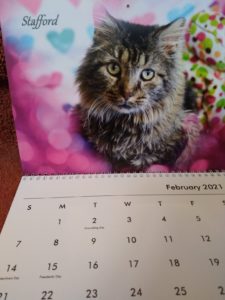 As you can see from the picture, Stafford is our Tabby's Place calendar boy for February. Every year we work up a calendar for purchase by cat lovers and showcase our beautiful kitties. He looks so handsome and ready for Valentine's Day, doesn't he?
Despite occasionally spooking the humans around him, Stafford remains a delightful, gentle boy. Finding an adopter for him might prove quite challenging.  Fortunately, due to your dedication and generosity, he has a good home with us for as long as he needs it. Thank you!
Your correspondent,
Stephanie