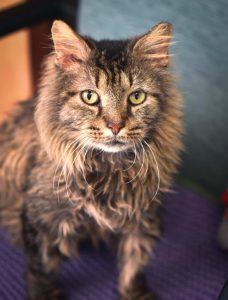 Note: The following message comes to you from Tabby's Place Founder & Executive Director Jonathan Rosenberg, Stafford's longtime office mate and devoted friend. We had hoped to send you a Special Update letting you know of Stafford's sudden decline and heartbreaking diagnosis of inoperable cancer, but his illness progressed more quickly than anyone expected. We are deeply sorry for the shock of this Special Update.

Friends,
It is with a heart that has been broken wide open that I inform you that our dear boy is gone.
I came in yesterday to see how he was doing, and to spend some time with him.  I hoped he might have a few good days left. (He had been diagnosed earlier this week with untreatable metastatic cancer throughout his abdomen.)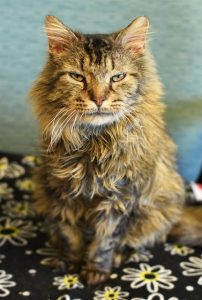 But, when I saw him, I knew the reprieve was not to be.  He was barely present.  He sat quietly and did not respond to petting. And, most significantly, he was not eating.  He did not even flinch when I laid out his favorite treats.
Given the extent of Stafford's cancer, we knew he would not get better.  I sat with him for a while, and other employees visited him and cajoled him to eat.  No luck.
He was ready to move on. He went very gently and quickly, but left a large hole, in fact an explosion crater, behind.  This is "a type of crater formed when material is ejected from the surface of the ground," and seems appropriate.  It was, however, his soul that left his handsome body.  But, there is a very tangible hole in all who knew and loved him.
Because he was FIV+, Stafford initially lived in the FIV Suite.  The cats in there are wonderful, but they are a hardscrabble bunch.  Stafford's gentle ways were out of place.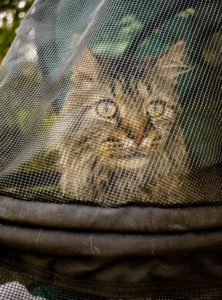 He moved into my office, where he flourished.  He had a succession of gentle office mates.  He didn't mind them, but what he really loved was (1) food, and (2) human attention, in that order.
Stafford was intensely focused on  ensuring he was well nourished.  He was not pushy, but he "didn't miss many meals," or other opportunities to eat.
Stafford was a handsome boy, sporting a serious lion mane.  Well … he was scruffy, but handsome.  He did not waste any time grooming, and his fur was prone to clumping.  I swear that, after being brushed out, his fur was clumped again by the time you put the brush down.
Despite his gentleness, he was a huge presence.  I dread returning tomorrow and experiencing my office without him.  Thank you for your support and caring over the years.
Your correspondent,
Jonathan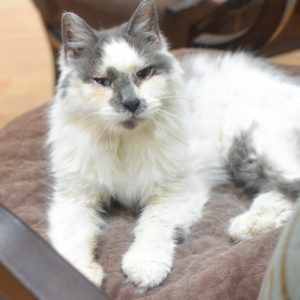 Note: Since dear Stafford has passed away, we have transferred your sponsorship to another cat in need: lovable Hobo. Like Stafford, Hobo is a precious senior with a scruffy appearance and a heart of gold. He is currently battling lymphoma, hyperthyroidism, cardiac issues, and chronic herpes, but he loves food, friends (feline and human), and living in our Lobby. We hope he will touch your heart as much as he has ours. You can read about Hobo here, and you'll receive his first update in March.

If you prefer, you can select a different Special Needs cat to sponsor. Click here to meet all our Special Needs cats, and contact us by email if you'd like to transfer your sponsorship. Otherwise, you will receive updates on Hobo each month going forward. As always, your generous support will go where it's most needed.
Thank you for your love and generosity to Stafford. The Tabby's Place cats are deeply fortunate to have you in their lives.