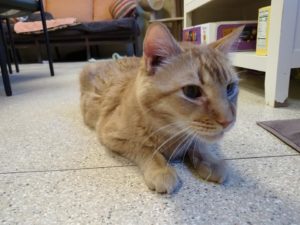 Dear Supporters of Simon,
I was volunteering at Tabby's Place the other day and popped into the lounge area to sign in and, of course, to see Simon. The ritual is always the same. I barely make it through the door, barely have my coat off, barely make it across the room to sign my name on the sign-in sheet, when Simon is there. There are few cats that I've met over the years that have so much love to give. He stands there, waiting patiently, or sometimes not so patiently, gazing upwards, grateful for the kind word or pet. Willing to show how much he cares. Meowing for attention.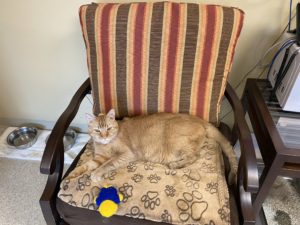 That's when it hit me!  Simon would make the perfect mascot for Valentine's Day.
Humans (and maybe cats, too, but I can't be sure about that) have set aside a day for love. They celebrate their love or their loved one with the giving of fancy Valentine's Day cards, chocolates, or having dinner out at a restaurant—at least before the pandemic. Tiny heart-shaped overly sweet candies with sayings like "Love you truly," suddenly become popular for the day. Humans go overboard, at times, trying to show their love.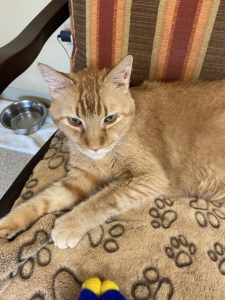 I have a sneaking suspicion that if given the chance to participate in this ancient ritual, Simon would politely decline. Just pick me up and hold me, he would say. Tickle me under my chin. Pet the top of my head. Let me snuggle in your lap when you come to visit. Tell me I'm the most handsome boy you've ever seen. Call me Simon Pie when you see me. (Simon knows all my kitties at home are part of our Pie Family, and he's an honorary member of our family so that's his nickname.) Talk to me and tell me what's been going on in your life. And, yeah, I know I can't understand every word, but I can tell by your tone of voice that you care. That you love me. In other words, make much of me.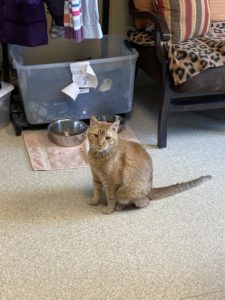 On this Valentine's Day, in the lounge area, I'm speculating that there will be lots of love. Simon will be with all his kitty friends, including his best bud, Shifty, and newest roommate Samantha.
Healthwise, Simon has been doing fine. He's been having weekly ear cleanings, which he's taking in stride.
Simon and I thank you, as always, for your continued support. We hope you stay safe and warm and have a lovely Valentine's Day.
Your correspondent,
Kate