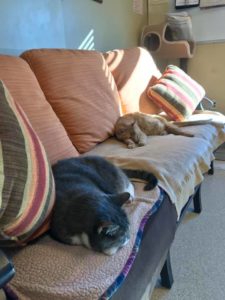 Dear Simon Sponsors,
"Out with the old. In with the new."
As January 1, 2021 rolled in, I imagined Simon at Tabby's Place felt the same as I did. Humans and cats alike had had enough of 2020. I had had enough of news reports that the virus was spreading. I imagined Simon had had enough of volunteers who wore masks, who always petted him wearing gloves. He had had enough of a "No Visitors" policy until the pandemic was over. Yes, 2020 had been a tough year to get through.
But then I took a closer look at the way Simon and his best friend Shifty were handling the situation. I could learn a thing or two about how to get through these trying times.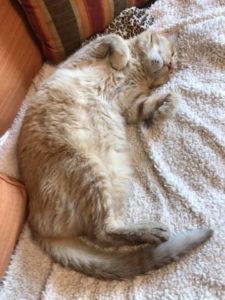 Rule #1 – Don't forget you have friends. They can be your greatest comfort in isolating times like these. But remember to be socially distant at all times. There they were—the two of them. Sacked out on the sofa. Taking an afternoon snooze. Or was it a morning snooze? And still, they were acting responsibly—six feet apart—so they wouldn't infect each other with the virus. Being together provided them with comfort. Remaining six feet apart insured their safety.
Rule #2 – Sure life is tough, but don't be afraid to take time to relax and enjoy yourself. You can't be "on" every second of every day. One thing Simon is good at is knowing when to take a catnap. There he was—zonked out on the sofa, belly up, in dreamland, snoring away. (Did someone sneak a little too much catnip into the lounge area? I'll never tell, but so what if they did!) For me, it might mean a glass of wine or too much pumpkin pie. I promised to never feel guilty again when I felt that zonked out feeling.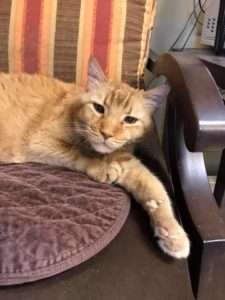 Rule #3 – Live each moment to the fullest. Be present in your life. Sure, there are restrictions in these covid times. But there are always restrictions—no matter what. See the way Simon stares into the camera—with conviction. He takes full advantage of the opportunities that present themselves. He made friends with Shifty. He found a safe haven under the sofa when things get too hectic in the lounge area. He sipped water from his fountain when he was thirsty. He was not shy about scrounging for snacks and pets from the volunteers. He didn't spend his time worrying about tomorrow. He decided to live for today.
So my motto going forward is—be more like Simon!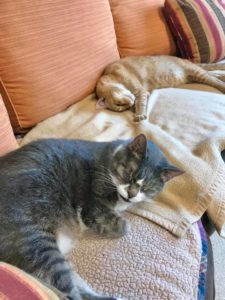 By the way, on the medical front, Simon this month faced a number of challenges. He had one bout of coughing this month that the good folks here at Tabby's will monitor.  He had another outbreak of acne on his chin. The staff used Stridex pads for daily chin scrubs and the acne went away. However, Simon does have a small cyst on his chin that the staff is monitoring. Of course, these medical challenges will not stop Simon from enjoying himself one bit!
Simon and I thank you as always for your continued generosity. We hope you can enjoy the coming winter season, each and every day.
Your correspondent,
Kate