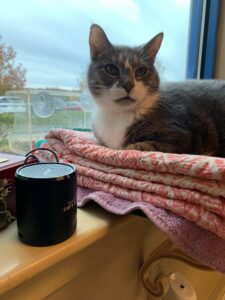 Hello, My Friends!
Kim has given me the ok to put "pen to paw" this month and write my own update.  She felt it was best for a couple of reasons.  First, I have been there MUCH more than she has this past month (obviously, since I live there); we will tell you more about that in a minute.  Secondly, the best way to describe the recent events that are happening at Tabby's Place is probably from the eyes of those who DO live here!
Tabby's Place is experiencing cases of ringworm, which it has not had in 14 years! Ringworm is a very common skin infection, caused by fungus.  The name "ringworm" is misleading, as the infection is not caused by a worm of any sort. But the rash that the infection produces is shaped like a worm, with patches of reddish skin with a circular shape and a center with a clear appearance. Most cats will not get more than a couple of patches, but treatment IS necessary, as ringworm is highly contagious.  It is nothing to be afraid of, and rest assured, our veterinary team is ON it!  Many of our cats with compromised immune systems or with known skin issues have been provided with anti-fungal preventive medications; those who are infected are in ringworm quarantine, as they receive medicated baths to treat the infection.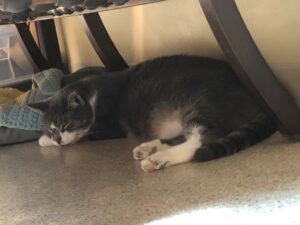 I have heard the "cat-chat" from my feline friends dealing with this common infection in one way or another, and they are saying it is NOT all negative!  Olive, one of our paraplegic cats, reports that she does not have to wear her incontinence diaper!  Rose and Boobalah are able to use disposable diapers instead of their thick, reusable diapers, perhaps feeling a little lighter and freer! Pepita, another cat with skin issues, was promoted to reside in the Lobby; she likes the human contact there! So for some of us, it has not been so bad!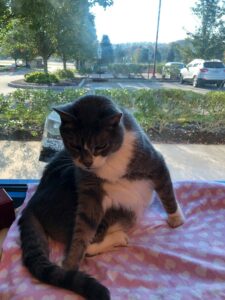 I am very fortunate to have remained unaffected by this turn of events. The negative in this for me is that my correspondent, Kim, has not been able to visit as much.  The stroller program for the cats able to be safely outdoors was somewhat limited at the first news of ringworm. I am not sure if you know it or not, but when not here, Kim is Director of Schultz Senior Dachshund Sanctuary/Rescue in NJ, a group that specializes in senior animal safety and protection.  Concerns of transmission to the elderly animals under her group's care when not here with us at Tabby's Place put her in a "better be safe" mode for the very present time.
Our research has shown us that other shelters and animal facilities along the East Coast are currently experiencing ringworm episodes at their locations as well.  All places get a case of this now and then; Tabby's Place is no exception. It could be the storms and flooding in areas; it could just be an unfortunate coincidence.  But for us to have numerous cases in our immaculate facility is a cause for concern, and we must take every known precaution to prevent any further spread.
In the meantime, I spend my days looking out the windows at the ongoing construction. I can see the new structure, and was amazed at how quickly that part of our expansion was moving along!  However, one day before the roof was complete, a heavy rainstorm caused a leak down into the Community Room—all over one of the employee's desks! Everything was cleaned up in a timely fashion.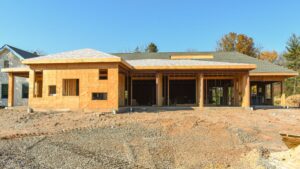 Well, I wish I had better news, but the best news is that I remain a healthy and happy fellow. Always looking for a little "love," a tap on the head, or a nice lap rest with a volunteer, your pal Shifty here is optimistic that when I write again next month, things will be back to normal here.
In the meantime, I remain VERY thankful for your most gracious gifts that help me to be the very best boy I can be!  You can see how important it is for me to maintain my good health right now, and I am working very hard to do so. Happy Thanksgiving to you and all those who are dear to you!
Here's to better news NEXT month!
Love,
Shifty
(With help from your correspondent, Kim)