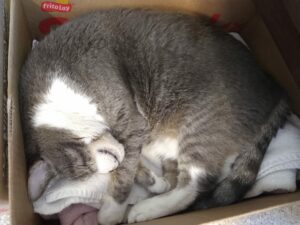 Hello, my dearest sponsors!
I put pen to paw this month to share my news of life here at the sanctuary I am blessed to call home.
The news…is momentous. (Fret not: it's also very, very good.)
We shall start with the mundane. The Tabby's Place vet team evaluated my blood glucose (BG) trends this month, and determined that I would benefit from an increase in my insulin dose. A BG curve, which measures my levels over an extended time period, confirmed this. It's not uncommon for cats with diabetes to need occasional adjustments to their insulin dose. (Just ask that Correspondent of mine; she has two diabetic cats of her own.)
But now for the big news…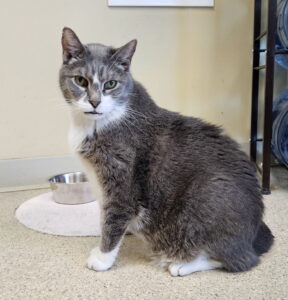 I first suspected something significant was afoot when Kim walked into the Employee/Staff Lounge. She took one look at me and burst into tears. Usually, I receive a big smile!  Our eyes locked; I knew something was "up."
She sat with me but said not a word to the negative.
Later in the day, I found myself receiving congratulatory comments from other volunteers.
I was bewildered by this odd behavior, but as everyone is so busy, I took it in stride and returned to my siesta in a cardboard box under the sofa.
But then I found out…I was getting adopted!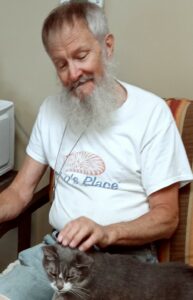 Yes, you are reading this correctly:  I have been ADOPTED!  I am going to my very own HOME!
Kim explained what this means. I will be living in a home with very nice people. I will spend the rest of my life being loved, pampered, and receiving one-on-one attention.
Kim tried to explain to me that there is really "no place like home," but it is hard for me to imagine it. She said I can take my cardboard box with me, but she doubts I will have any use for it. I will sleep in plush beds, have my very own cat tree, and enjoy my days in sunny windows watching birds.
She was crying the other day, she told me, with a mixture of sadness and joy. She will miss me a lot, but wants me to know the joy of love in a real home.
She even sang me a song the other day (adapted from a song by Jason Mraz):
Here's to the hearts that you're going to break (staff & volunteers)
Here's to the lives that you're going to change (your adopters!)
Here's to the infinite possible ways to love you.
Here's to the fact that I'll be sad without you.
But I want you to have it all!
Sounds like I have a lot to look forward to, doesn't it?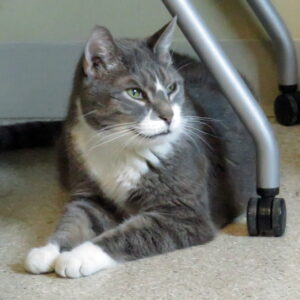 I thank you, my sponsors, for all of the love and support you have given me throughout the years. I would never be making this journey without you. I'm forever grateful!
I will let Kim wrap this up for me:
Please join us in saluting our fine, svelte gray fellow as he embarks on his journey HOME on Mother's Day!
Here's to the good times you're going to have, Shifty! It has been my honor and pleasure to write for you these past few years.
May God Bless you, now and always.
Your Correspondent,
Kim
---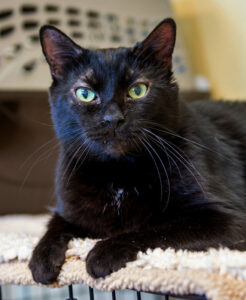 Since Shifty has found his forever family, your sponsorship has been transferred to another Special Needs cat in need: charming Fenek. Like Shifty, Fenek has diabetes (and also heart disease) and lives in the Lounge of Tabby's Place. You can start by getting to know him here.
If you'd prefer to choose a different cat to sponsor, you can meet them all here. Please feel free to email us if you'd like to transfer your support to a different kitty. (Otherwise, going forward you will receive updates on Fenek each month.)
Thank you again for your kindness and generosity to Shifty. You've helped to make this marvelous news possible for him, and we're so grateful!