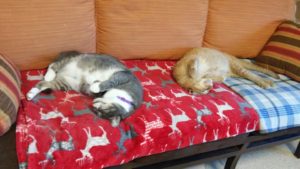 Hello to Fans of Shifty!
Our friend has given us cause for concern this past month, as his interest in food seemed to be a little "off" for a few days.  Evidence of feline vomit was found in the Lounge that our fellow calls home.  None of this is typical for Shifty; he always enjoys his meals, and loves his treats, too.  We kept a close watch on him and I am happy to report that he seems to be better.  We will continue to monitor him and his feline suitemates for any recurrences.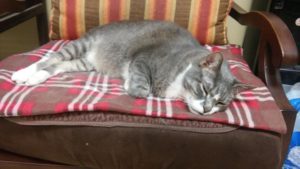 Speaking of suitemates, Shifty seems to have patched up his differences with his roomie Simon.  I do not really understand why Shifty did not care for the company of Simon, and/or Simon did not care for the company of Shifty. Simon is the sweetest cat and seems to enjoy the company of both cats and humans.
However, as you can see by the photos sent along, these fellows seem to have resolved any issues they may have had in the past.  Now we are seeing head-butts, affection, and kind companionship. This is progress we enjoy watching!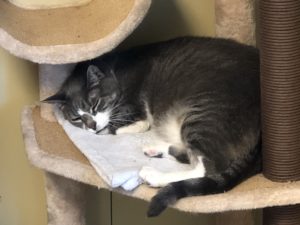 As a team member of our Curbside Volunteer Program, I have been visiting Tabby's Place to assist the cats approved for outdoor stroller rides on their journeys around the sanctuary.  While Shifty is not yet approved to participate in this program, it does not mean I cannot peek in on him.  I feel like a cast member from "I Spy," as I look into the windows and watch him.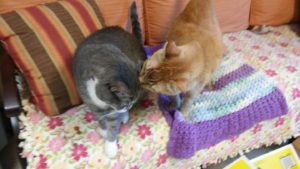 Each cat walked in the stroller will also look in to see which cats they can see.  Shifty looks at me when I look in and wave to him.  He does not know what to make of this.  His friend Simon, however, is quite receptive to looking back at me with a "cat-smile."  Maybe Shifty will learn from his new friend that my intent is good. I miss our interaction and look forward to resuming it.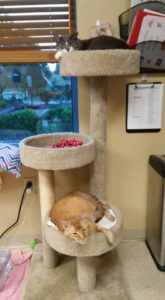 When "outside looking in" at Shifty and Simon the other day while strolling, I was reminded of how far each of these cats has come.  They are blessed to be a part of the Tabby's Place family, where we work with their medical challenges as well as their emotional adjustments along the way.  Our goal is always to make them the best cats they can be.
We thank you for your continued love, support, and most gracious gifts that allow Shifty to shine. I think we have all done an excellent job, don't you?
Your correspondent,
Kim