Dear Friends,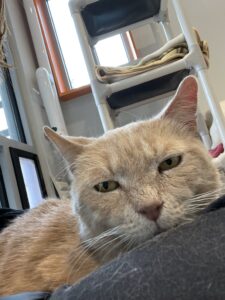 I'm excited to tell you that I'm an official resident of Quinn's Corner! Quinn's Corner isn't officially opened to the public until later this year, but some of us kitties were able to move into the new digs early. We made our move a few weeks ago. As promised, I got all my favorite toys and blankets and lots of new ones as well. This place quickly felt like home.
My gorgeous former roommate, Miriel, was also moved to a fabulous place—her very own forever home! She was adopted just before our move to Quinn's Corner. We threw a little party for her and wished her well with her new family.
Sweet Durin and I share our own space, with access to an outdoor solarium (which are a little different than the solarium in the original building). I haven't really spent time in the solarium yet. I'd rather be indoors seeking cuddles and lap time from humans. Besides, it's been a little chilly. Now that the days are getting longer and a bit warmer, I plan to explore the solarium.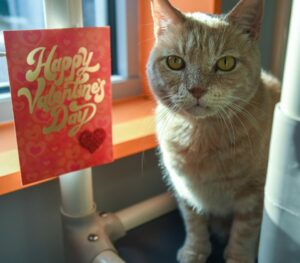 Our home here is bright and filled with happiness. It also looks out over the new Quinn's Corner lobby, so Durin and I have lots of things to entertain us, like watching people scuttle by and observing our neighbors (feline and human) across the way in the Volunteer and Development offices. Pretty soon, when it's fully completed, I'm hoping the lobby will be home to more cats so we can watch them, too.
Life is good here at Tabby's Place, thanks to your friendship and support. To show my appreciation, I have made you my official fur-ever Valentine. ❤️
Lots of love,
Ponce de Leon
(With help from your correspondent, Mary)