Hello, Pixie aficionados! Ready for another update on our girl? We're delighted to report that there is no medical news for Pix this month; she has enjoyed a month of stable good health.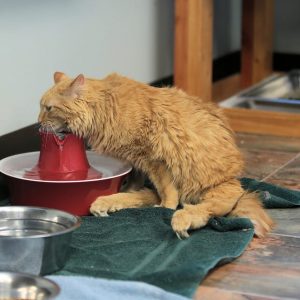 Tabby's Place would like to firmly deny a current rumor. It is NOT—repeat, NOT—true that Pixie has been spoiled beyond recall. Does she have much of the staff and many volunteers wrapped tightly around a paw? Yes, yes she does. But if you knew Pix the way we do, you'd succumb to her light-hearted, charming personality as quickly as we have. Should our orange love bug wish to get up into her custom-made window box, she'll meow repeatedly until one of the humans does her bidding, picking her up to nestle her carefully into a blanket or towel there. If the opposite is true and she wants to get down, her rapid-fire Plexiglas scratching and repeated chirps quickly bring about the desired situation.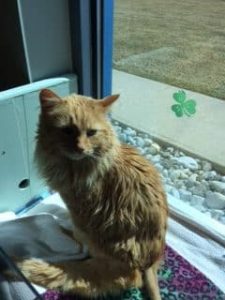 The sole area of her life in which the humans don't rush to do Pixie's bidding involves her leaving the Community Room. For quite some time, she was able to go in and out of the room as she wished. Unfortunately, Pix simply cannot get along with lobby resident Rose. Their run-ins were so frequent that it was ultimately decided that Pixie had to stay in the Community Room, at least for the time being. On the plus side, however, Pix has so many visitors and gets so much attention, that she invariably recovers quickly from the indignity of not being allowed to roam as she pleases.
If you are one of our delightful girl's sponsors and have not yet met her in person, I hope you'll be able to do so this year. Meantime, thank you for your generosity in helping us look after Miss Pix.
Your correspondent,
Stephanie