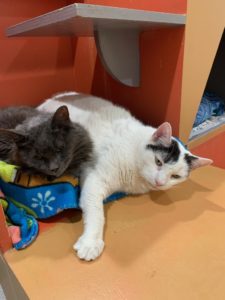 Hello and Happy New Year, my Dearest Friends!
I wish you a healthy 2021 filled with kindness, love, and joy. My heart is telling me that this year will bring new peace to this world of ours. Trust me, sponsors… there is light at the end of the tunnel.
My correspondent was telling me about the scientists in all the different countries who are working on a vaccine for the virus that is wreaking havoc amongst the two-leggeds. Science is amazing, isn't it? She said that she is starting to feel hopeful that the humans will get to a healthier place by the end of this new year. I hope that you are feeling that way too.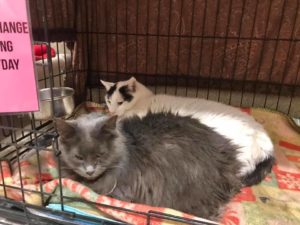 Well, maybe at least this update will help put a smile on your face. Please know that I think about you all the time and send you furry grey bundles of appreciation every single day. You are the reason that my life is so lovely here at Tabby's Place. There are no words to describe how grateful I am for your sponsorship!!!
I also want you to know that I am in good health and good spirits this month, even though I had the dreaded dental… We kitties do NOT enjoy having our teeth cleaned, so our super-fantastic vet team usually gives us a bit of light sedation to make the process easier for everyone. I honestly don't remember falling asleep, but I know that I woke up missing a tooth!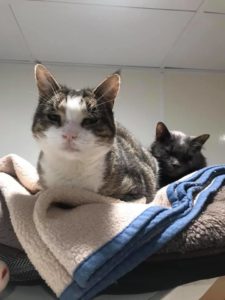 Hmmmm… and my correspondent tells me that when a two-legged child loses a tooth, she puts it under her pillow for a mysterious creature called the "tooth fairy." AND when the tooth fairy visits the child to collect the tooth, she typically leaves her a gift! Can you believe that?!
My correspondent says that she had a special little pillow when she was a child, with a tiny pocket to leave the tooth in. Each time she lost a tooth, she would wrap it up in tissue and leave it in the pocket of her "tooth pillow" at night when she went to sleep. And in the morning, the tooth was gone but there was money in its place! Not a bad deal, huh?
I mean, since I'm a kitty, I have no interest in money… but maybe the tooth fairy would leave me treats if I left my tooth next to my bed when I went to sleep at night. Do you think I can still get my tooth back from my super-fantastic vet team? Bah… I wish I knew all of this BEFORE my dental… I would have asked them to save any teeth that had to be removed. Oh well, there's always next time.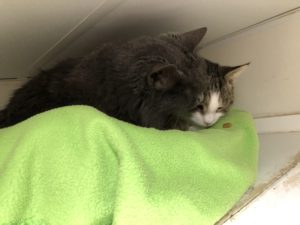 And bonus… while I snoozed through my dental, my rear end got a full-service trim. So now my backside is freshly coiffed and squeaky clean! I don't think you'll really be able to tell from the pictures that I am attaching to this month's update, but I promise you that it feels all spic and span!
So speaking of my pictures, I hope that this month's selections are fun and entertaining for you to see. I am sure that you are not shocked by the fact that most of them are me cuddling with another kitty. I simply cannot get enough of curling up with one of my many besties for a warm, winter's nap. I mean, can you blame me? I live with quite a few cool cats, and one of my goals in life is to be besties with all of them. Why catch a few winks all by your lonesome when you can snuggle up with a furry, warm snore-buddy?
I am of course including a couple of pictures of me nestled in with my all-time favorite catnapping companion, Angelo.  My friend Chewbacca is a close second in the favorite snuggle-buddy category, and you may be able to see that there is a treat lying on the bed in front of us in one of the pictures. If I remember correctly, after this picture was taken, I just happen to slowly, nonchalantly lean across Chewie to grab it. A girl shouldn't go to bed hungry, right?
I hope you like the picture with my friend Wonton, who you may not know yet. He is gorgeous, isn't he? I am a sucker for that tabby brindled fur. Oh, and of course I had to include another picture of me in a stroller. Have I mentioned how much I love stroller rides???
Well, as we ring in this brand new year, I am putting my paws together to pray for a year that heals us out of last year. I will write again soon, but in the meantime, please remember that I love you with all of my furry grey might!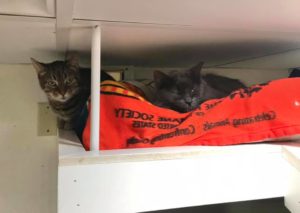 Thank you, thank you, THANK YOU for being my sponsor!!! Your generous heart will be linked with mine forever.
Until next month, be kind to one another.
Love,
Mary
(With help from your correspondent, Florie)