Hello, my bestest friends in the whole wide world!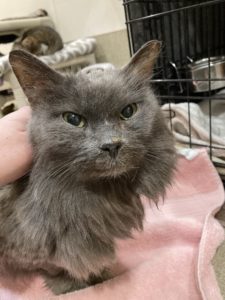 I am sure that my Special Update a few days ago came as a bit of a shock. It has been a difficult and scary couple of weeks for me, but I am determined to hang in there. I feel every bit of love and support that you are all sending my way, so please keep it coming! It helps more than you will ever know.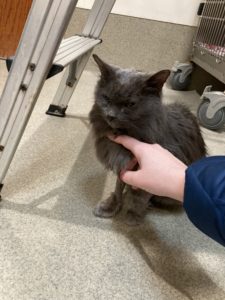 If there was a way for me to put into words how much you mean to me, I would do it now. But words just cannot do justice to how dearly I adore you. You are the reason that I have lived the most joyful and wonderful life here at Tabby's Place, and I will never understand how I got so lucky.
I know that you know from my update how sick I am, and I know that we are all hoping that I have more time here on this side of the Rainbow Bridge… but we just don't know. What we do know is that my super fantastic vet team is doing absolutely every single thing that they can to help my poor failing kidneys, and to keep me as comfortable as possible.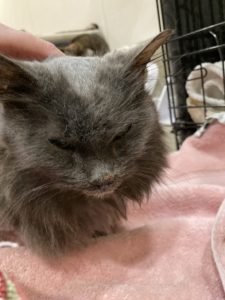 I am back in Suite A with my snuggle buddies, and spending my days lounging in warm cozy beds alongside my feline besties. My vets are continuing to give me subcutaneous fluids to keep me hydrated and oral antibiotics to try to help my body heal. But they have been honest with me, and I know that my time here may not last much longer.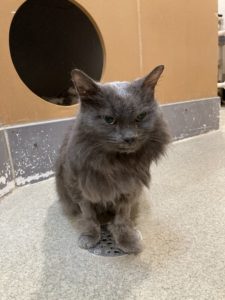 So I just wanted to use this month's update to tell you all how much I love you, and that I will carry you in my heart if I do cross the Rainbow Bridge before I get the chance to write to you again. But let's keep praying for a miracle, okay? We never know what the universe has in store for us, and a miracle might be just around the corner. My kidneys do not seem to want to cooperate, but you never know. Stranger things have happened, and things might just turn around for me.
Please include me in your prayers to whoever or whatever you pray to. I can use all the prayers that I can get right now. You have always been my fiercest champions, and I will never be able to show you how profoundly grateful I am to have you in my life. Your love and sponsorship is why I am pure kitty joy all the time. Even now, I can't help but feel happy because I know you are there for me.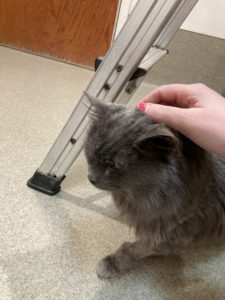 When my correspondent visited me the other day, she and I took lots of pictures that I will include here so you can see that I am still hopeful. I hope that you are staying hopeful too. My correspondent told me that she is absolutely still hopeful.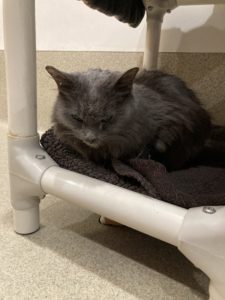 We sat on the floor together and just hugged and hugged… and then cried a bit, and then hugged some more. I tried to wipe away her tears, but she said she just couldn't help it. We told each other how much we love each other, and that we will always be a part of each other's heart, no matter what.
And I know that this is true with you too, my beloved sponsors. We will always be a part of each others' hearts, no matter what. Remember that. Thank you for everything you do for me. Thank you thank you thank you!
Find ways to find joy, even if I am not sending you emails to remind you. And be kind to one another, always.
I am sending you all of the furry grey hugs in the whole wide world, and I love you with all of my furry grey heart!
Love,
Mary
(With help from your correspondent, Florie)