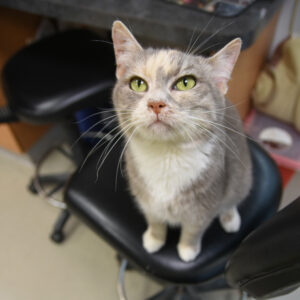 Dear Team Luna,
For Luna and the entire Tabby's Place team, during this month excitement abounds! Our annual Linda Fund Matching Challenge is underway.  This is our annual campaign to raise money for specialized medical and emergency care for the Tabby's Place cats.  These are expenses that cover treatment beyond the walls of our Medical and Surgical suite. If you are interested in making a gift, it will be matched, doubling our ability to provide excellent care for our most challenging cases.  Please visit the Tabby's Place homepage where you can make your donation online.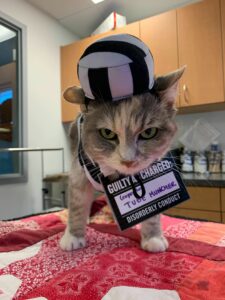 Speaking of medical care, Luna's ears were checked this month, as she was experiencing a flare of skin irritation on her face.  The examination came up clean and clear. She also lost a little bit of weight—perhaps because she was unable to use her stealth moves to get into Angelo's kibble. Luna remains as svelte and smart as ever.  Undoubtedly, her fantastic fitness program of hard work and at least 10,000 steps a day makes her a role model for every cat.  We're secretly waiting for a workout video for all her feline fans and pussycat pals to come out on YouTube!
Luna participated in some Halloween costume modeling this month and her costume was priceless. Don't you agree?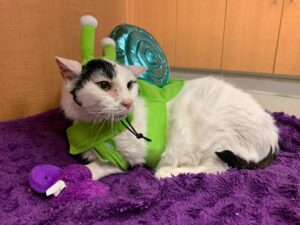 Luna certainly has "star quality." She is simply so photogenic:  she is just made for the camera. Who knew when she arrived at our doorstep, bedraggled and in so much distress, she was a true diva in the making?  Your kindness and generosity have made Luna's life a true rags-to-riches story.  Your love has turned her into our best ambassador for our Sponsored Cat program, and we have been able to add several new cats to our sponsorable roster: Ponce de Leon and Kiko.  You can check them out on our website.
Not to be outdone, Angelo also participated in our Halloween activities.  We just loved his costume and think his photo is hilarious!  Luna most certainly found Angelo entertaining.  The staff is certain they caught her laughing at him (in a nice way, of course). It made for a wonderfully festive time for all of us.
Progress on Quinn's Corner continues. While right now it looks unchanged, there has been a great deal of electrical wiring work to complete.  The exterior of Tabby's Place has been painted to match the new addition, giving the building a fresh, new look. Luna thought it was so much fun to watch and was ready, of course, to offer some helpful tips.  As you can see in this video (click here), the painter was entranced by her.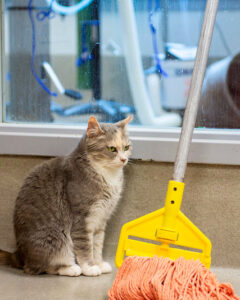 Luna is always making new friends and generating greater interest in Tabby's Place in everyone she meets.  We couldn't ask for a better ambassador—although, as the front door greeter, Olive might not agree.  Miss Luna is one cool cat, and she owes it all to you.
From Luna and all the staff and volunteers, have a purrrrrfectly wonderful and Happy Halloween!
Your correspondent,
Tina