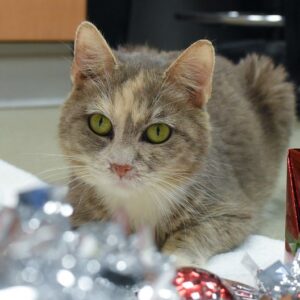 Dear Team Luna,
Stop the presses! Jump back! Sit down and prepare yourself for some astoundingly great, really wonderful, clap your hands terrific and very, very exciting news!  Hold on to your hat and take a couple of deep, deep breaths. Okay, are you ready?
Steady now, there really is no conceivable way to prepare you for this.  It's monumental, really.  In fact, you may tremble a bit when I share it with you … or at least feel the Earth begin to move under your feet.  Get a good grip on yourself and that armchair, now, because …
LUNA IS LEAVING THE LAB – SHE HAS A FOREVER HOME!!!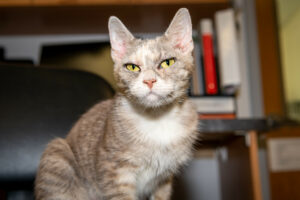 Tabby's Place's fearless feline leader is hanging up her lab coat and retiring to a wonderful forever home.  We really didn't see it coming, but a terrific young married couple is taking Luna home with them a full week earlier than planned.  These great people fell in love with little Luna the moment they saw her and are well equipped to take care of her. It's a match made in heaven: Luna will have a feline companion in her new digs – one with a very similar pedigree and set of challenges. Yes, Luna's new owners (if anyone can actually be called that) have years of experience caring for a cat with a history of awful, itchy allergies – just like Luna!
At Tabby's Place, we sincerely believed that Luna would be with us always, roaming the halls, running the lab and keeping everything shipshape.  When she arrived at our doorstep, we held little hope that we could heal her.  Her condition was just that bad, but with your love and support we did just that! Luna's condition requires constant monitoring, and we'd be lying if we said the medications required to keep her healthy weren't expensive. We always believed the costliness of her care would require her to live in and have a team of donors for support.  Never in our wildest imaginings did we believe someone would come along with the genuine love, financial means and hands-on experience to provide for Luna to live outside the lab.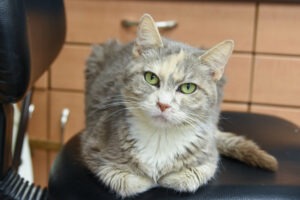 We're happy to say, "Boy, were we wrong!" Of course, Luna and her new family will always have the support of Tabby's Place and all of the people who so dearly love her.
Let me say this: It was not an easy decision for Luna to move into this next phase of her life. Letting go of all her responsibilities and duties will not be easy.  She is simply not a laissez faire kind of kitty, so we hope her new family will rise to the occasion when she makes her moves to put their house in order.  We expect Luna to have a very active and fulfilling retirement – there will simply be no slouching!
As for the rest of us, life without Luna at Tabby's Place and in the Medical Suite will definitely take some adjustment.  If you see a tear in Denise's eye from time to time, please ask if you can give her a hug.  Angelo will definitely require lots of pats on the head and constant reassurance that everything is okay.  Who will be his new lab mate?  Well, it's hard to say and way too soon for that but, rest assured, there's no cat in the world that can replace Luna.  She's simply one of a kind and, despite feeling a little sorry for ourselves, we couldn't be happier for her.  It's the end of an era at Tabby's Place and Luna will leave big paw prints to fill.  Of course, we'll keep you up to date on all of the challenges we meet and attempt to overcome without her. But I can't help feeling a little wistful as I end this last letter on her behalf.  Bon chance, dear Luna girl!  Bon voyage! We will always love you madly!
Your joyful (but despondent) correspondent,
Tina
---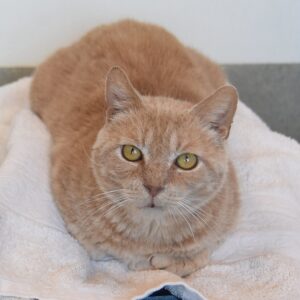 Since Luna has found his forever family, your sponsorship has been transferred to another Special Needs cat in need: charming Ponce de Leon. Like Luna, Ponce requires special accommodations at Tabby's Place because he is what we call double positive, meaning he is both FIV+ and FeLV+. In the case of Poncey, this means double the love!
If you'd prefer to choose a different cat to sponsor, you can meet them all here. Please feel free to email us if you'd like to transfer your support to a different kitty. (Otherwise, going forward you will receive updates on Ponce de Leon each month.) You can read all about Poncey here.
Thank you again for your kindness and generosity to Luna. You've helped to make this marvelous news possible for her, and we're so grateful!