Happy July, Friends of Faye!
This month, I find myself borrowing from novelist F. Scott Fitzgerald, who once wrote, "And so with the sunshine and the great bursts of leaves growing on the trees, just as things grow fast in movies, I had that familiar conviction that life was beginning over again with the summer." When last we spoke, I was deeply immersed in summer school, and Faye was reflecting on the merits of "hot girl summer." But now, Faye and I both find ourselves settling into the slower, more reflective pace that only comes with the hazy, humid arrival of July.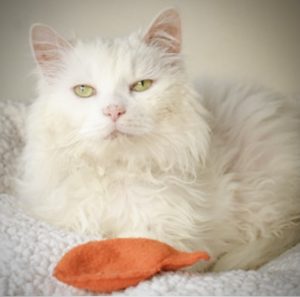 Faye, typically known as our resident hot-house flower, spends a few fewer hours of the day lounging in the solarium, owing to what appears to be a mid-summer weather pattern of very hot days followed by mid-afternoon/early evening thundershowers. Turning her attention towards the delights of climate control, Faye often opts to remain indoors, high atop her ramp where she can watch her kingdom continue to flourish and occasionally order room service.
Nope, I'm not kidding, friends. It has been observed that Faye has come to expect an appetizer course of treats before breakfast and dinner, and is reported to be quite persistent in her demands. It appears she observed her suite-mate, Thurman, receiving treats along with his twice-daily medications and derived that she, too, is entitled to a little amuse-bouche before her main meals. This seems only fair, seeing as Suite B is the last room in the daily food delivery cycle.
Faye has, additionally, be noted to be in good health and feisty spirits, setting the standard for the energy we should each be bringing into the latter half of our warm-weather months. So, whatever your plans may be for the upcoming month—vacation or staycation, beach or pool, dining out or ordering in—Faye encourages you to greet each day as an opportunity to nurture yourself, delight in some whimsy, find your bliss, and strut your fabulous, feisty stuff!
Faye and I are happy to be sharing our respective summers with you! As always, we wish you health, happiness, and love. Thank you so much for your friendship throughout the seasons and for following Faye's journey throughout the years. We'll talk again soon, friends . . .
Your correspondent,
Beth