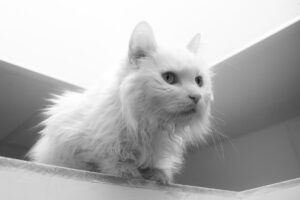 Dearest Faye Lovers,
Faye is enjoying the numerous volunteers and visitors that spring and summer seem to bring out in greater numbers at Tabby's Place. She is enjoying getting to know and helping to train the new volunteers who clean her suite and solarium, ensuring that they know she is the queen of Suite B and deserves their attention whenever she demands it!
Faye is such a beautiful and unique personality—a wonderful blend of beauty, pride, and diva-ness!  She will demand your attention, especially if you are bringing food or treats into the suite, and gladly accepts any and all attention.  Rather than venture out into the solarium these days, she is spending much of her time indoors, where it is cool and she has the advantage of perching on high places, such as on the top of the ramps, on top of the cages, and—even in a pinch—on the small ladder we keep in each suite. From these posts, she can keep an eye on the goings-on, stay out of any tussles between other not-so-well-behaved cats, and observe all the subjects in her queendom!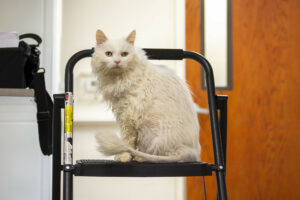 In medical news, Faye had a full blood panel run this month and all of the tests were in the normal range. She had one note of vomiting after being medicated.  Our vet team keeps a close eye on this gentle girl and ensures she gets the best care possible. As volunteers, we have numerous ways to alert the vet team if we see any medical symptoms of which they should be aware. Just imagine having dozens of volunteers visiting the suites during the day, along with the staff. So many eyes help keep track of things that the vet team might not see directly. The vet team relies on everyone to keep their eyes wide open and inform them when it comes to kitty behavior or even small medical things such as a kitty sneezing, vomiting, or having a runny eye.  These reports from volunteers and staff inform the actions our vet team takes, actions such as administering behavior meds or eye drops, performing a full workup, or crating a cat overnight to check out their stool.
The Tabby's Place lobby was turned into a veritable kitten party for our recent Kitten Shower, which we held virtually last weekend.  Faye could see right into the lobby from her suite but wasn't quite sure what the big fuss was all about.  But then she probably doesn't remember just how adorable she likely was as a tiny fur baby.  If you want to check out the Kitten Shower, you can see how it went right here!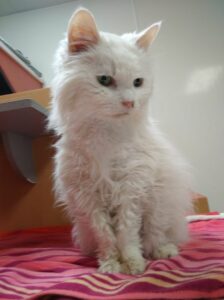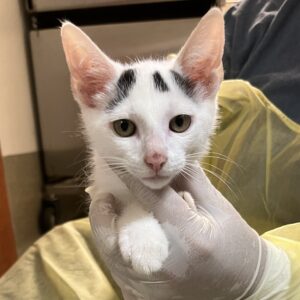 Quinn's Corner construction is moving along and it is wonderful to see the progress and know what a great thing it will be to be able to care for cats diagnosed with feline leukemia and for neonatal kittens.  Apparently, the word is out!  One of the construction workers found a kitty wandering about on the construction site, checking the place out and wondering if he could be a part of this wonderful addition.  Read all about Kevin, the QC wanderer, on our blog.
We thank you for all the love and support you bestow on our beauty queen each month. Just know that Faye is living a good life at Tabby's Place and is getting the best possible care.
It's been my pleasure to fill in for Faye's regular correspondent this month and bring you this sweet girl's news.
Your guest correspondent,
Sheila