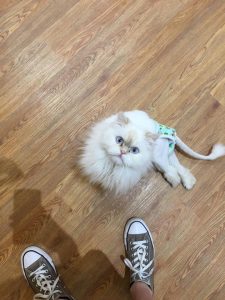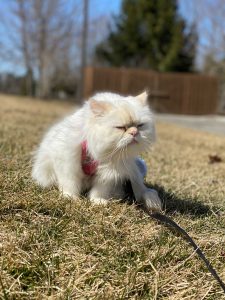 Hello Cotton Sponsors,
Spring has arrived, along with sunshine, and longer, warmer days. Cotton has dreamed of these days, and they are finally here!
So where else would Cotton be with all this glorious weather upon us? Of course, his wonderful, adoring servants, swooped him up and got him outside, paws digging into the grass, and wind pressing against his gorgeous face. Life is good!
As noted by one of Cotton's very special servants: "HRH (His Royal Highness) Cotton strolled (oh, ok—sat out in his stroller on the front porch) on Friday.  He made such a fuss upon his return that I took him back out to supervise Stanley Adam, and Wilbur as each took a turn sitting out front in the fresh air.  Cotton watched and listened to birds, dried leaves blow by, and greeted people who dropped donations at the front door.  He really had a nice time. Cotton is a very special boy, and he has extremely devoted volunteers who indulge his desires and whims."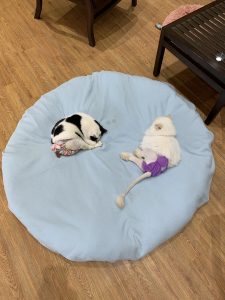 As for his indoor exploits, Cotton went fishing! He first thought the fish appliques on the pink towel were real. He had the weirdest look on his face (even weirder than normal). Then he realized they were not real and he could safely park on the towel. What a great background for a photo opportunity with this beautiful boy!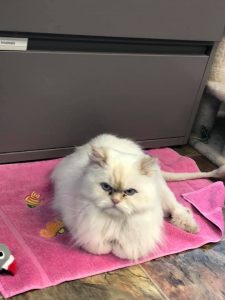 Medically, Cotton is doing great. His upset stomach has been resolved and he was taken off of the anti-nausea medication. Cotton has been enjoying more frequent visits to the Community Room, as he gets some extra attention when he's in there.
He also has enjoyed video bird watching on an iPad. I think that's called Cat TV. One of our staff members has been making an extra effort to provide video stimulation to all the kitties that don't have access to windows, bringing the "outdoors" to them. It can be very entertaining!
Thank you for your kindness and generosity. We are so grateful for your unrelenting devotion to Cotton and wish you much warmth and happiness.
Stay well,
Your correspondent,
Donna