Dear Supporters of Cotton,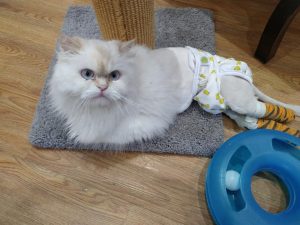 I've been volunteering at Tabby's Place for over fifteen years, but I have to be honest. I still don't know every cat who lives here. There are too many suites and too many cubbies and just way too many cats, who come and go, the lovely hordes of kittens, and then the constant adoptions I read about which make my heart feel good and which open up more spaces for more cats. About a year ago when I was asked to write for Simon, I asked,  "Who?" and then had to get all his vitals and track him down. Oh yeah, he's the orange and white cat in . . .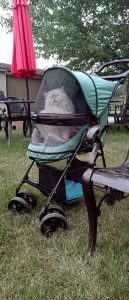 Well, that was not true of Cotton.
From the moment Cotton arrived on the scene, everyone became aware of him. He was an instant star. He was being talked about in the laundry room (where I volunteer). I saw him on Facebook, his face peering out of the stroller as volunteers wheeled him around outside and always had a great story to share.  They would tell us how he literally was waiting around for his ride, demanding in his "Cotton way" for his turn in the stroller. How he seemed to know who was strolling him around and could pick those volunteers out of a lineup, so to speak. Once a stroller volunteer, always a stroller volunteer! I saw beautiful poses of that face, and who can forget that face, once they peer into those big round eyes and get a look at that pink nose?
And, of course, I interacted with him when I walked through the lobby. He was not the kind of kitty who snoozed on the side in one of the cat beds, who you hardly notice as you saunter by. On the contrary, he was the kitty you had to keep an eye on, the one who would try to sneak through the door (faster than a race car driver) as you were exiting the lobby into the hallway, aiming toward the kitchen area. He was the one who was always meowing for something. Can you see me down here? Can you hear me? How come you're not jumping to immediate attention?
I heard his story and I thought, "What a feisty little guy he is!" He's one of those cats with a big personality. The only cat at Tabby's Place who's been dubbed His Royal Highness (HRH for short). And for a reason. Partly because, I think, he grabs life with his two good paws and refuses to let go. But he can also jump into your lap and purr his way into your heart.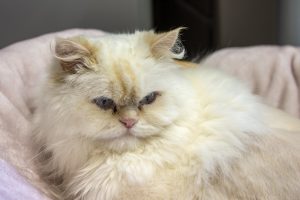 The update on his medical situation is as follows. The staff decided to crate him overnight to give his legs some relief and the good news is he's doing well being crated overnight. The staff has also begun to wrap his hind legs again to protect his stumps. This will make him feel even more comfortable and make it easier for him to get around during the day. He's scheduled for a surgical consultation with a specialist in early August to see what the best course of action will be for him, so we eagerly await that information.
Other than that, Cotton developed some loose stool this month, which was treated with medication and resolved. Yay!
Most of us at Tabby's believe that all our kitties dream of a forever home. We are keeping our fingers crossed that if it's meant to be, we'll hear some good news in the future for Cotton!!!
Cotton and I thank you for your continued generosity to Tabby's Place. Without your support, cats like Cotton wouldn't have the same opportunities for a wonderful life. Enjoy the beautiful summer weather.
Your correspondent,
Kate