Greetings, Cotton Sponsors!
Cotton is loving summer, but summer isn't always loving him.  We are back at that time of year again where strolling is on a day-by-day, yay-or-nay basis due to heat and humidity. There have been some very ugly weather days lately, and we just can't put the kitties at risk. Cotton, while not happy, will survive!
HRH Cotton added a fan to his club recently, as one of his stroller drivers made over an hour drive one way, in uncertain conditions, to meet him. Though this wonderful, long-time volunteer is not new to Tabby's Place, she is new to the Stroller Program.  With COVID restrictions in place, she simply never met HRH. Since then, she has returned again to stroll with him,  and to her surprise and delight, Cotton not only remembered her but skidded right up to her on his shiny diaper when she walked in the room! Seeing the smile on her face, it was clear that his actions had made her long drive totally worth it!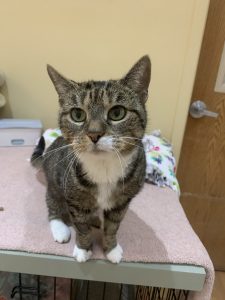 Much like Cotton's most recent fan, I've also been able to get back to visiting Cotton in person. It had been so very long since I'd seen him. He looked fabulous, of course, and he scooted on over to greet me and was very clear (actually, emphatic) that he wanted to get close. So, I sat on the floor and he climbed on my lap, purring. There's just nothing better than having a kitty purring on your lap, especially when that kitty is Cotton. All is right with the world. While Cotton was on my lap, Grecca was making very demanding sounds from her perch. She definitely got my attention but ignored my requests for her to come to me. After all, Cotton was on my lap and I was not going to disturb him! A little later, some of Cotton's servants came through the lobby and he took off from my lap in a split second. It seems that the Lobby kitties get post-lunch treats, and Cotton was not about to miss his. Smart boy! As I was leaving the room, Grecca beckoned me once more, and I visited with her. She is a beautiful, inquisitive, sweet girl.
In medical news, Cotton was noted to have a weepy and irritated eye. It was treated and cleared up pretty quickly. He had a small window of overnight freedom, which he thoroughly enjoyed, but we quickly saw a change in the degree of his leg/knee pain and discomfort. He will be having a surgical consultation but will remain crated overnight for the time being to give his joints some relief. Cotton had his ears checked, and they are problem-free—good news!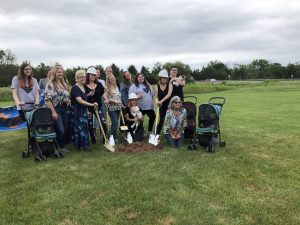 There is a lot going on at Tabby's Place with the construction of Quinn's Corner (a haven for FELV+ cats and neo-natal kittens) well underway. The lucky kitties who stroll, like Cotton, have lots to see and follow day-to-day.
We are forever grateful for your caring, love, and support for Cotton. Cotton is extremely lucky that you are one of the special people in his world. There are stirrings of some very good news coming in Cotton's future, so stay tuned!
May you have a splendid month!
Your Correspondent,
Donna