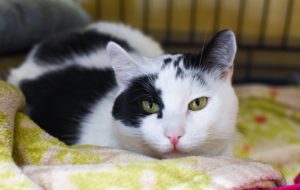 Dear Aged to Purrfection Fund Sponsors,
As summer starts its evitable tumble into fall, we continue to hold on patiently for the resumption of our beloved Aged to Purrfection(ATP) program, to take whatever form continuing COVID precautions will allow. We are gearing up for the "Virtual" Aged to Purrfection and Pet Pals programs, which were created to bridge the gap that occurred when long term care facilities suspended in-person visits because of the pandemic. The first program will allow seniors to have contact with feline friends through the new normal of virtual contact. The Pet Pals Program, which is already underway, has Tabby's Place volunteers serving as Pet Pals (just like pen pals), writing to the seniors about the cats and happenings at Tabby's Place.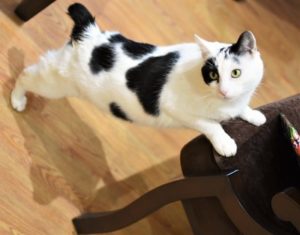 Life in Tabby's Place continues for our ATP alum kitties, although they continue to miss their joyful visits to our senior friends. Let us catch up with what some have been up to. Last we left Rose she was about to have a specialty consult to address some of her health concerns. As a result of this, she began to take a new medication to help with her chronic coughing episodes. The good news is that not only did it help with that, but she has also been perkier, and her appetite has picked up. Our girl has had a bit of a fall makeover what with decreased drooling, less fretful behavior (i.e. foot chewing) due to allergies, and her newly bathed softness. It is impossible not to notice the spring in her step now that stunning new fancy floral diapers have arrived.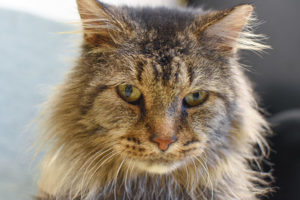 Carrot  (in the header photo above)continues to enjoy good health and this month has had to adjust to a new roomie. Oscar, a long-haired male who is no longer being crated overnight, has our Carrot a bit on edge. Carrot has been heard complaining that he cannot get away from Oscar and consequently has been spending more time in the solarium. Adjustments had to be made all around.
Stafford has also been enjoying good health this month. He is eating well and is growing back his colder weather coat after his dramatic summer cut.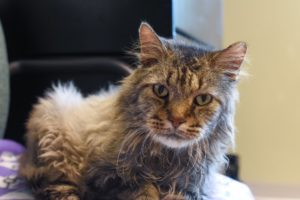 He has had better luck setting parameters with his and Shiny's new roommate, Mr. Dracula. Mr. D. is a skinny, sweet older guy who maintains the harmony in Jon's office by not invading his roomies' space.  Jon believes that the secret to this trio getting along has to do with the fact that each of them believes that they are the only cat in the office. Fingers crossed that this dynamic hold firm.
Although life in Tabby's continues, we continue to look forward to the day that our ATP cats can once again be reunited with their beloved seniors.
Your correspondent,
Karen