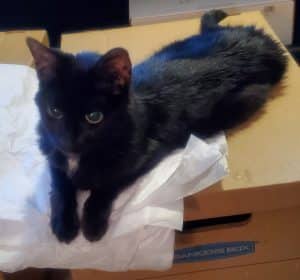 Dear Aged to Purrfection Sponsors,
As we continue to acclimate to the changes surrounding the COVID pandemic so too has the Aged to Purrfection program. Before we catch up on what some of the program's feline friends have been up to, let's take a moment to talk about some exciting new developments to the program.
We are starting a new phase to accommodate continuing COVID precautions.  It is called Virtually Aged to Purrfection and Pet Pals. Since we cannot bring our kitties to the facilities in person for senior friends to visit, we will do so virtually through Zoom calls. Residents will be able to interact with their favorite cats from the comfort of wherever they are.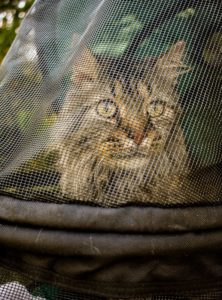 The portion of the program called Pet Pals will involve some of Tabby's Place dedicated volunteers writing to seniors who have expressed an interest in the goings-on at Tabby's Place.  The volunteers will include photos of our adorable residents. We are excited about maintaining our vital connection to our 5 senior care facilities while we "patiently" wait to be able to resume in-person visits at some point in the future.
There has been good news for one of our ATP alum, Denni. She has been adopted! She is doing very well in her new forever home and seems to have developed the sonar hearing necessary to shadow her new person. She was one of our beloved ATP superstars and we will miss her, but we could not be happier for her.  Her adopter mom recently wrote a guest blog about adopting Denni, which you can read here, called Dainty Darling Denni.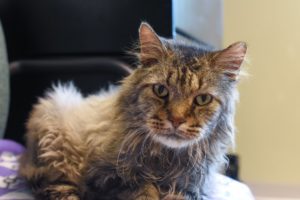 Although not completely out of the woods medically, Rose's cough has thankfully been resolved and she is gaining weight again. She has exhibited some worrisome behavior related to chewing on her foot, pulling on her fur, and drooling excessively. We don't think that some inflammation around one of her canines has contributed to the last issue, but will continue to monitor it closely. We hope that the allergy medicine she recently started will address some of these issues. Hopefully, an upcoming internal medicine consultation will be able to shed some light on some of our girl's struggles.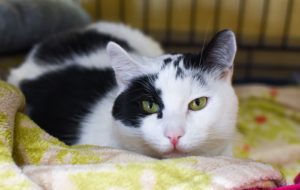 Her cuteness remains undaunted, however, and she and Cotton have joined forces to snuggle by the front door, creating a powerful vortex of cuteness!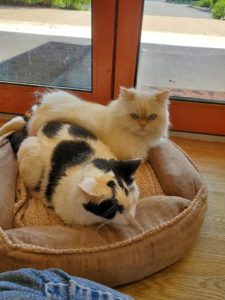 Word has it that Stafford is also missing his visits with the seniors and has had to turn his energies to chasing various cat toys with gusto. We are grateful that he continues to enjoy good health and a playful spirit even for an elderly, somewhat scruffy boy. Stafford looks forward to getting back to work and we think he is a great ambassador for warmth and spirit of the ATP program. Next time look for a report on the beginnings of our new Virtual ATP program and Pet Pals.
Thank you for supporting this wonderful program.
Your correspondent,
Karen