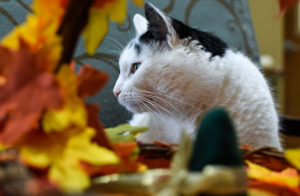 Happy Fall to All!
We hope you are finding the change in seasons as invigorating as our feline friends are. There is a group of satisfied and content therapy cats enjoying extended stroller walks with our Curbside Volunteers, thanks to abundant sunshine and cooler air. We are happy to share that the new ATP Pen Pal program is up and running, to the delight of our senior friends and dedicated volunteers helping them keep up with the goings-on at Tabby's Place. We hope to extend this vital connection long after COVID precautions are no longer necessary.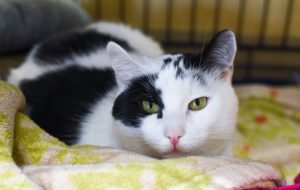 Let us catch up on what some of our ATP alumni have been up to this past month. Carrot has been enjoying robust health and clearly, his happy place is the Suite C solarium. He has even convinced his suitemate, Wilbur, to join him outside on a regular basis. He appears to take his role as the Ambassador of Suite C quite seriously as its only sponsorable kitty. He has his paw on the pulse of what is going on.
Two of our sweet girls, Pepita and Rose have resolved their gastrointestinal issues this month and are enjoying improved health. Pepita has been able to stop the medication she was taking to keep UTIs at bay and appears more comfortable in general. Rose is her happy, busy self, to the delight of all feline and human friends. Her appetite is back, her cough will hopefully stay a distant memory and that girl is styling in her new diaper wardrobe.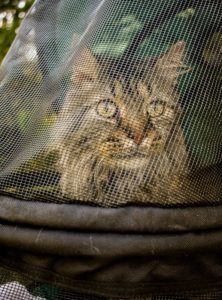 Stafford has been having a bit more of a struggle with his health. He is more congested and sneezier this month and has begun taking antibiotics and antiviral medication to help with this. To make him more comfortable he has also received nebulizer treatment to loosen his congestion. He has had days when he has had a good appetite and was able to be given his insulin. The good news is that with all his struggles he seems to be responding to the medical intervention and his health is trending in the right direction. He really does have a lion's spirit.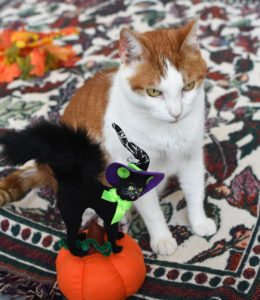 We look forward to the day where we can all come together again, but in the meantime, we want you to know how appreciative Tabby's Place is for your continued interest and support.
Your correspondent,
Karen