Hello, Adam Fans!
I'm happy to be here pinch-hitting for your regular correspondent this month. 2022 has found Adam in good spirits, at least so far. Unlike some of the more adventurous felines at Tabby's Place, this sweet boy prefers to spend most of his time indoors, enjoying the warmth. The weather has been especially cold these last few weeks, so no wonder Adam seeks out the warmth! Most often, you'll find him snoozing in a cubbyhole lined with a blanket or in a crate placed on the floor (of course, any crate at Tabby's Place will have comfy bedding in it; Adam is no fool!).
Our Sunday morning volunteer who feeds the cats in the suites mentioned that Adam eats much better when a few treats are placed on top of his wet food. This works well for all the kitties in Suite A. After all, who wouldn't want their food topped with a treat? It's sort of like getting whipped topping on your dessert, without even asking for it. Dig in!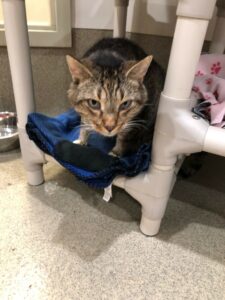 There is a big change in the suite and it is good news for Adam.  Carbon, an extremely chatty (think of over-the-top conversationalist extraverts you know!) black kitty, has been adopted. Carbon craved attention and made it known whenever anyone came into the suite. He would chirp/meow/quack non-stop until the visitor took time to pay attention to him. Adam says, "Finally, some peace and quiet!" We are all super happy for Carbon's adoption as we are for any time a Tabby's Place kitty gets adopted—we all celebrate each and every adoption.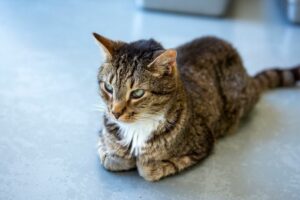 Alas, Adam remains a challenge when it comes to regulating his GI tract. He was placed on a stool softener, but it seemed to have very little effect. Over the past few weeks, there have been several occasions when he appeared bloated, but there doesn't seem to be any new reason for that. We'll just have to keep our usual close eye on Adam to make sure we can keep him as happy and comfortable as possible.
Thank you for your generous help for Adam, as our Special Needs cats are honored and so grateful to have you as a sponsor.
We wish you a joyous and healthy New Year and all the best for you in 2022!
Your correspondent,
Stephanie