Good day, Viktor fans!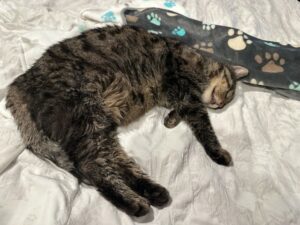 I already had a great update planned for you this April, but you are getting to read all about it early because I have an even bigger update to share!
VIKTOR HAS BEEN ADOPTED! Yes, I am shouting! I am over-the-moon excited for our boy!
A lovely couple had come in, looking for a diabetic cat. They currently have one and were looking to add another. They met Viktor, and it was love at first sight! He is now in his new forever home, and I have it on good authority that he has settled right in. Best wishes to Viktor and his Awesome Adopters!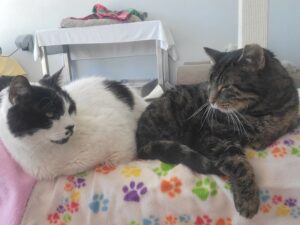 But. I still wanted to share all the fun news about Viktor that happened in the weeks leading up to his journey home.
On one of our visits, Viktor and I shared our Netflix time with his Suite-mate Elijah. I set up the blankets and the tablet, and both boys climbed right up! The inside of the Suite was being cleaned, so I had my visit with the boys in the solarium. It was chilly out, but having the boys on my lap definitely kept me warm!
Once we were allowed back inside, Elijah curled up in a cubby, and Viktor climbed back up on my lap. We watched our show, and he enjoyed all kinds of attention.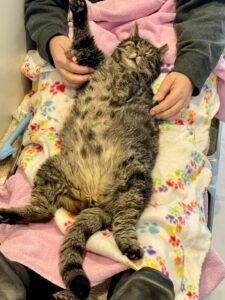 Another volunteer was in the Suite and had never witnessed our cuddle-sessions. She instantly broke out the camera to document the visit with pictures and video. The video was shared amongst the volunteers and staff of Tabby's Place. Fellow-volunteer Allison let everyone know that Viktor was enjoying his kitty spa treatment "which starts off with warming belly rubs, then evolves to exfoliating brushing, and is topped off with fabulous scratches in the armpits."
Someone then added music to the video, and it found its way onto TikTok! I hope you enjoy it. Viktor got famous before he found his forever home!
Thank you for making this amazing news possible for Viktor. Your love will go with him all his life!
Your Correspondent,
Nikki
---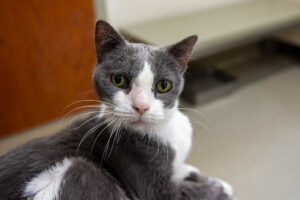 Since Viktor has found his forever family, your sponsorship has been transferred to another Special Needs cat: sweet Josie. We hope she will soon win over your heart!
If you'd prefer to choose a different cat to sponsor, you can meet them all here. Please feel free to email us if you'd like to transfer your support to a different kitty. (Otherwise, going forward you will receive updates on Josie each month.)
Thank you again for your kindness and generosity to Viktor. You've helped to make this marvelous news possible for him, and we're so grateful!